The sport of tennis is set for a defining season in 2020. With the top three players in the world over the past 15 years – Rafael Nadal, Novak Djokovic and Roger Federer – entering the twilight of their careers, new players have emerged as genuine threats to their supremacy.
In this eight-part series, we'll assess each player in the top eight and what they can achieve in 2020. We'll look at how their positions are under threat and what they can do to attain their goals in the season to come. It's never easy to look forward, but with our 2020 vision, you'll have the benefit of hindsight when you're talking tennis during the next 12 months.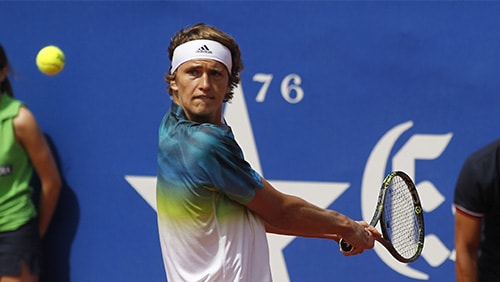 We continue our series with a look at Alexander Zverev, one of the most exciting younger tennis talents. At just 22 years of age, the German had a precipitous rise to fame, winning 11 ATP titles since he burst onto the professional circuit. At 6 foot 6, Zverev isn't just a giant on court, with many of his peers, such as Rafael Nadal, crediting him with being a future world number one.
When he was just 20, he reached the Top 20 players in the world, an did so when younger than anyone except Novak Djokovic. The 16-time Grand Slam champion himself said of his newest challenger that he believes Zverev could surpass even him.
If anything could derail him, it's the way he recovers from the draining and time-consuming battle he fought against his former agent, Patricio Apey. Zverev has since broken free to be on his own but found that organising his life meant taking too much time away from the court.
If he can find the right work/life balance, Zverev is almost certain to challenge for the biggest prizes in 2020.
What's in his locker? 
Despite his overbearing height and big cat strides around the court, Zverev prefers life at the back of the court, and is seemingly able to reach almost any shot that comes at him with his incredible physique and searching returns.
Zverev's adaptability within game points is another factor in his domination of many opponents. He frequently slices backhands so precisely that they might be suited to the rim of a gin glass, but he's equally comfortable sending booming forehands down the line. He many return better than he serves at present, but his height will almost make him a huge threat from the points he begins.
His Grand Slam record
Zverev has a varied and impressive Grand Slam record that shows clear growth throughout his career and despite any setbacks off the court.
Zverev has either equaled or improved his record at the Australian Open every year and reached the 4th Round last season. At the French Open, Zverev has reached the quarter-finals in both of the last two years. The German's record at Wimbledon will be a source of frustration to him, with a peak of 2017's 4th Round appearance slipping to a 1st Round exit in 2019. But at the U.S. Open, he's had an upward trajectory, improving by one round each season except the 2017 season where he reached the 2nd Round as he did the previous year.
Where are his weaknesses?
Getting his head set on tennis is almost his only weakness and his millions of fans – and indeed tennis fans in general – will be hoping that the German potential great has a fantastic 2020 season.
While his on-court game looked to be comfortably taking care of itself before his off-court issues, those problems have only just cleared the way for Zverev to focus on his tennis, like he did by winning the ATP Finals in 2018. He will need to refocus in a big way to conquer that weakness in 2020.
The verdict
While no-one has the natural game he does, Alexander Zverev has proved that it takes more than skill to win a Grand Slam, which is the only reason he's fallen short so far. If he can bring his game together, then the German player has every component to win major titles year after year. It remains to be seen how soon he can become the all-round package in tennis.
Slams to Win: None, but a year of improvement would be the equivalent of a major win to the German player. Zverev might surprise and reach a Grand Slam final, but having yet to reach a semi-final, progress of any kind will be a victory.