Wednesday 23rd October 2019 – Bettorlogic, the leading betting analytics software company, has tied up a content partnership with Tipico, the leading sports betting operator in Germany. The deal will greatly enhance the betting shop experience for German and Austrian sports bettors.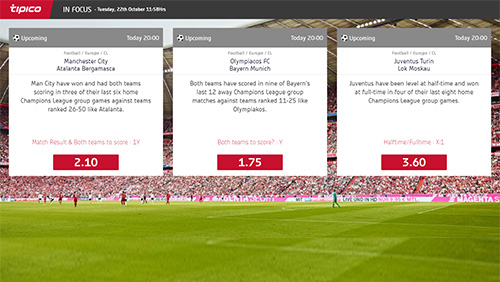 Tipico will gain access to Bettorlogic's extensive content service for installation across its entire portfolio of retail shops. Tipico's success has been built from offering fans exciting entertainment with sports betting for over 30 sports.
This content agreement includes pre-event reasons to bet on football and tennis and then live updates through Bettorlogic's Livelogic product for easy display in over 1,200 betting shops.
"We are pleased that in cooperation with Bettorlogic we can provide our shop customers with live statistics and recommendations for countless sports events every day. Thus significantly enhance the entertainment and infotainment quality in the shop and set us further apart from the competition." said Thomas Palazzari, Head of Shop Design & Business Development at Tipico.
Bettorlogic's advanced software enables the scheduling and display of a wide selection of sporting events every day on dedicated screens. Up to 12 events can be shown at any one time, rotating every minute with markets and odds supported with reasons why they are featured bets.
Bettorlogic CEO Andrew Dagnall commented: "We are delighted to be working with Tipico on this project as it is a very effective way to display reasons for betting shop customers to have a bet throughout the day whether it is before events start and then when they go live. This is delivering an incredibly engaging product to Tipico's retail shop audience."
About Bettorlogic:
Founded in 2004, Bettorlogic build databases across major sports in order to deliver content specifically for those who bet on sporting events. Using industry leading analytical and modelling skills enables the award-winning B2B firm to create software that generates compelling bet prompts.
About Tipico:
Tipico is the leading sports betting operator in Germany. Tipico offers fans exciting entertainment with sports betting for over 30 sports via www.tipico.de, the Tipico App and in over 1,200 betting shops. Tipico places the highest value on safe and responsible handling of sports betting and gambling. The business group with its headquarter in Malta and subsidiaries in Karlsruhe was founded in 2004 as an international trading company and now employs 700 people worldwide. More than 6,000 people work for the Tipico franchise network in Germany and Austria. As an integral partner of sports, Tipico is an official partner of the Bundesliga and 2nd Bundesliga in Germany as well as a platinum partner of FC Bayern Munich. In Austria, the company is involved as naming right sponsor of the Tipico Bundesliga. More at www.tipico-group.com.