With the top three players in the men's tennis world missing from this week's China Open, the draw looks remarkably open for the world's other greatest male players. Who can make the most of the absence of Novak Djokovic, Rafael Nadal and Roger Federer?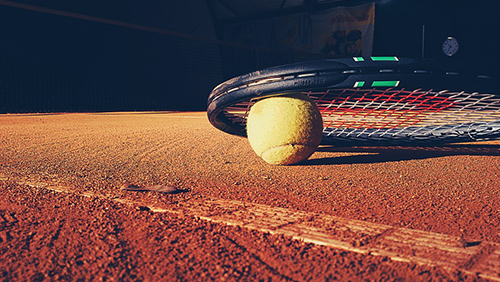 Last year, the 27-year-old Nikoloz Basilashvili from Georgia triumphed in the China Open Men's Singles final, beating Juan-Martin Del Potro. The year before, it was Rafa Nadal who triumphed against his modern-day nemesis, Nick Kyrgios. In 2016, Andy Murray took the title, beating Gregor Dimitrov in the final. But who are the five players to watch this year, and should you avoid backing them or lump on?
Karen Khachanov (8/1)
The pre-tournament favourite is Karen Khachanov, who shocked Novak Djokovic when he beat the Serbian player to win his first Masters title in Paris just 10 months ago:
There's certainly no reason why Khachanov can't win it again, but the 23-year-old Russian is in indifferent form. We'd avoid the favourite on the basis that his erratic nature means he can't be relied on.
Dominic Thiem (9/1)
For the reason that we'd avoid Khachanov, we should probably back Dominic Thiem. The Austrian goes into the event as top seed, and certainly has the game to defeat anyone on their day, just as he destroyed Daniil Mevedev in Barcelona back in May:
While Thiem's half of the draw looks tougher on paper, Khachnov and Britain's Kyle Edmund could easily cause him problems, and that's if he makes it past Richard Gasquet, a player against whom he has a negative record. For that reason, we'd really only back him to get to the final at 5/1, as his route is so tough it might make going all the way harder. Plus, he prefers clay.
Stefanos Tsitsipas (9/1)
The Greek player may have complained of breathing problems recently, but he still presents a formidable obstacle to any player in the draw and has the groundstrokes to blow anyone away, just as he did Roger Federer in the Australian Open at the age of just 20.
While Tsitsipas is unlikely to be severely tested until the quarter-finals when the winner of Gael Monfils match against John Isner should await him, the semi-finals would see him come up against one of our two picks, so he should also be swerved at short odds.
Alexander Zverev (9/1)
The German has been in mixed form for over a year now, and never was this more keenly felt than in his defeat at the recent U.S. Open to Diego Schwartzman:
If Zverev is to regain his confidence, then it could be from the camaraderie that he experienced in last week's Laver Cup win. Should he use that to his advantage in China, he could get back to winning ranking points and clambering back into the places just behind the three absent tennis legends. If he gets past Round 2, back to him to go all the way.
Felix Auger-Aliassime (22/1)
If Zverev is to be denied, then it might be at the hands of a shock opponent who has hardly been discussed. At just 19 years old, Felix Auger-Aliassime is the youngest member of the Top 100 ranked players, and currently sits comfortably in the top 20.
A shoo-in to win his first round match, Auger-Aliassime could face Zverez in Round 2, but as daunting as that may look on paper, there will be no fear from the Canadian, and if he gets a fair wind behind him, he won't be 22/1 for long.