Every poker player will be put to the test in a tournament eventually. Down to '15 bigs', they'll need to come up with the right answers. But can British poker pro and actor Sam Razavi double-up, or will he be on the rail? There are no re-entries in this fact-finding freezeout.
Sam Razavi has recently returned to live in the United Kingdom from the Philippines with his wife Menchu, and his recent work includes both poker and acting. He recently impressed everyone by playing the most events at the 2019 World Series of Poker.
Let's start with a question highly relative to the war effort.
If you were to be shot at dawn, what would be your last meal / drink?
My wife… and stop calling me Dawn!
You're on a long-haul flight and can only choose one TV Show or Movie to watch on repeat, which is your pick?
Family Guy.
Stranded on a desert island, you have one book for company until you are rescued. What is it?
How To Cash In Your Life Insurance Policy By Convincing Everyone You Met Your Fate On A Desert Island, by S. Razavi Snr. In the absence of that, Dan Browns The DaVinci Code.
What's the song you could listen to on repeat forever?
Dance With My Father by Luther Vandross.
What's your favourite place to play poker and why?
Las Vegas, especially during WSOP. Always spoilt for choice with poker and the value is incredible. Weather, food and entertainment are excellent and very easy access to Mexico for a short break and some tacos if you've had enough of the poker!
Where's your favourite non-poker holiday destination?
Anywhere in Asia, especially Thailand or Vietnam. Great culture, great islands, great food!
You can play poker every day for a year or play no poker for a whole 12 months – which do you choose?
Play poker every day for a year. I might go broke otherwise!
Who is the person you don't have around anymore that you miss the most?
There are a few; I would feel bad saying I missed one more than the other.
Which person would you most like to meet but never have?
William Shakespeare.
When's the last time life put you on tilt?
It's quite a regular occurrence now but as a general rule anytime I step foot in an airport these days the tiltometer explodes!
You can't play it yourself…so which family member do you trust with your $10k WSOP Main Event entry?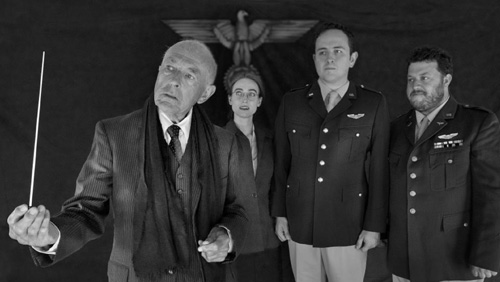 My brother Mo. He comes from the same school of thought as my other brother Eb, both very accomplished online players by the time they were 15. Oops, should I not have said that?
What's your best poker skill?
I think I am particularly good at reading my opponents.
And your biggest leak?
Punting the sports, what else?
If you became the world's first global president what would be your first unbreakable rule?
The people must not let clowns into positions of power… myself being a prime example.
You have just ten seconds with the person of your dreams… what do you say?
Sorry Menchu…I'll try to last longer next time!
Sam Razavi plays Magor Steve Arnold in Wick Theatre's production of 'Taking Sides' by Ron Harwood, directed by Mike Wells. The show is on between 2nd – 5th October 2019 at Wick Theatre in Brighton. Tickets are £11 and available at wicktheatre.co.uk.