Sports gambling is coming to the U.S. in big ways and the upcoming season of the NFL is going to be the first to take it mainstream. The Washington Redskins have announced a partnership that will bring live interactive, predictive-gaming presentations to TV sets across the country for the team's four preseason games. Just like that, watching the NFL will never be the same again, and it all starts tomorrow.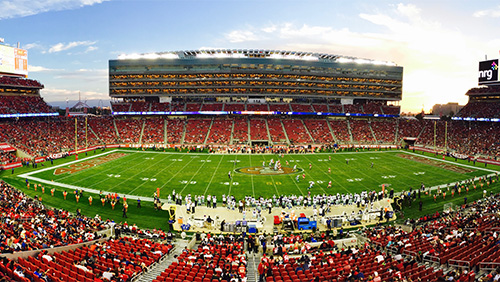 According to a press release from the Redskins, the predictive gaming solution comes through a partnership with NBC Sports Washington. The pilot program, called Predict the Game, will offer free-to-play contests that allow fans to win $1,000 in cash each quarter of the gridiron action, in addition to other prizes. Predict the Game will only be offered on NBC Sports Washington Plus, beginning with the team's first preseason game tomorrow against the Cleveland Browns.
Redskins Senior VP Scott Shepherd says about the new offering, "We're thrilled to partner with NBC Sports Washington to bring the first predictive, free-to-play live game telecast to the NFL. This partnership strategically aligns with our organization's commitment to constant innovation for our fans. We are continuously working to enhance the fan experience and strive to identify new, meaningful ways for our incredible fans to engage with our team."
The platform offers "full audio, video and graphics" from live-game coverage, as well as the Predict the Game elements and interactive features, real-time statistics and player data. All of the additional features are displayed in a frame around the game's telecast. The contest gives fans the opportunity to predict different outcomes for both players and plays via questions that will be posted on the interactive screen and on smartphones and tablets that have the NBC Sports application. Points are awarded based on correct selections and players can also pick up additional points by making correct predictions.
At the end of each quarter, the top scorer will receive $1,000. Random drawings will be held throughout the contest to award other prizes, which could include VIP passes, game tickets and Redskins memorabilia.
NBC Sports Washington Senior VP and GM Damon Phillips adds, "We are committed to delivering the most engaging experience possible to fans, so the opportunity to partner with the Redskins to combine live NFL action with predictive gaming this preseason is something we are very excited about."