PokerStars has rolled out a new feature called 'All-In Cash Out' and this article tells you all about it.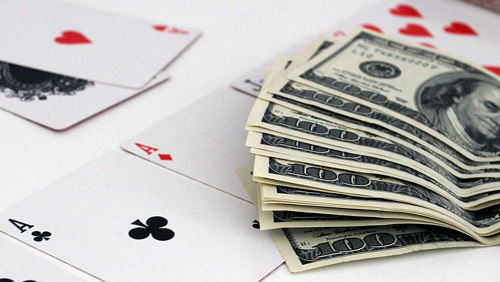 PokerStars continues to show courage and bravery after rolling out another change, this time on their .NET play money site. As first reported on Pokerfuse, PokerStars has created a feature called 'All-In Cash Out,' so let's see what all the fuss is about.
The new feature allows players to choose to cash out their equity when all in after the flop, minus a 1% administration fee taken by Stars.
Imagine you're staring at a flop of Ts9h8h with AsAh versus QsQh. In this situation, pocket aces have 74% equity versus the 23% equity of pocket queens. Let's say there is $100 in the pot. You choose to cash-out your 74% equity, then 74 cents would go to the house in the form of an admin fee, and you would bank $73.26, regardless of the turn or river.
Players have the choice to opt-in or out of the new feature. Taking the above example, if both players have opted-in, then the hand ends on the flop, and the prize pool divides by equity, minus the admin fee. If only one player has chosen to opt-in, then the hand plays out with Stars becoming the opponent, with the money going to the house should they win.
The option is available on selected No-Limit Hold'em Six-Handed cash games with a plan to roll out across all No-Limit Hold'em, Six-Plus Hold'em and Pot-Limit Omaha cash games on the .NET play money site. Sources at PokerNews believe the feature will become available across the .COM market, but unlikely to appear in New Jersey or the European Shared Liquidity market.
Not the innovators
It's not the first time that an online poker room has tried something like this. Back in the day, when online regs were printing money, 'InsuredPlay' operated as a third-party service that insured players hands in this way, during cash games. Pros began working for them, spreading the word across the iPoker Network, Full Tilt, PokerStars and partypoker, but it wasn't an idea that stuck. 'InsuredPlay' died in 2014. The GGPoker Network offers something similar known as 'All-In Insurance.'
Food for thought.
PokerStars' sister company BetStars offers a 'Cash Out' feature for their sports betting punters. Maybe that's where the inspiration for change came from?​