Macau is an important component to the success of Wynn Resorts. The casino operator's activity in the gambling city account for almost two-thirds of its revenue, so Wynn has decided that it should capitalize on the success. It's preparing to spend $2 billion on a new venue, the Crystal Pavilion, but some industry analysts aren't convinced the numbers reflect the property's potential and could be "a bit aggressive."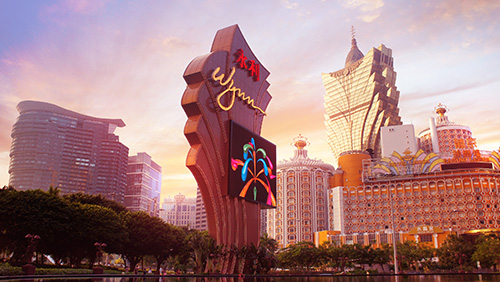 The venue will be located near the company's Wynn Palace and will become a "must-see" destination according to Wynn. Construction is expected to get underway in 2021 and be completed in 2024, with the property contributing as much as a 20% return on investment. A presentation given to analysts and investors this past Wednesday said that Crystal Pavilion will feature "an innovative architectural design with an all-glass structure; two phased hotel towers with a total of (approximately) 1,300 rooms and suite and one-of-a-kind public entertainment attractions."
In an article by Bloomberg, the facility will offer two hotel towers, a performance space, interactive sculptures and gardens—no casino. It's essentially a mammoth art museum and theater and the 20% expectation might be a little lofty.
Analysts with JPMorgan agree. DS Kim, Jeremy An and Christine Wage explain, "Target return on investment is 15 to 20 percent, implying incremental EBITDA [earnings before interest, taxation, depreciation and amortization] of U.S. $300 million to U.S. $400 million from phase one," adding that this would mean a "35-percent to 47-percent boost" in the trailing 12-month EBITDA at Wynn Palace, "which seems a bit aggressive for primarily non-gaming expansion."
There are also concerns that Wynn might be getting itself involved in too many projects at the same time. It just opened Encore Boston Harbor in Massachusetts and wants a gaming license in Japan. If it were to be selected to participate in a Japanese integrated resort (IR) project, construction would most likely need to begin within a year or two, and taking on another massive endeavor could create issues with money flow.
Analysts with Nomura said in a note this past Wednesday, "Wynn's 'discretionary free cash flow' target of U.S. $1.68 billion, or U.S. $16 per share, in 2021 is a consolidated number," adding, "Adjusting for non-controlling interests in Macau, we estimate Wynn's 'true' free cash flow per share target in 2021 is closer to U.S. $11.40 per share."
Anything is possible. Wynn still has to prove itself after the Steve Wynn debacle and will come up for a renewal of its Macau concession in 2022. Japan has yet to determine who will be building resorts in the country and there are a lot of companies ready to submit bids. A lot can happen in a very short time.
Comments