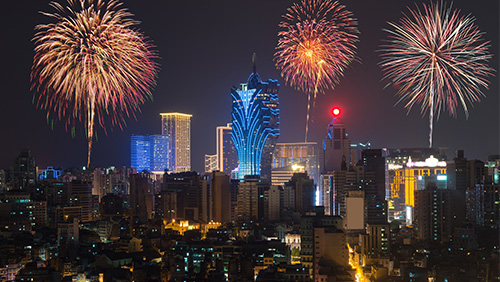 While a labor group in Macau pushes for an obligatory summer bonus, two casino operators in the city have announced that their employees will be receiving a little extra in their pay over the next couple of months. Both Wynn Macau Ltd. and SJM Holdings Ltd. have acknowledged that they will issue bonuses to eligible employees in addition to the bonuses that are typically provided each December.
An internal memo, in Chinese, began circulation around social media groups and appeared to acknowledge the SJM bonus, which the company is calling a "summer living subsidy." GGRAsia was later able to confirm through email with SJM that the memo was legitimate and the company confirmed that the bonus will be offered on July 4. That email read, in part, "The summer living subsidy from Sociedade de Jogos de Macau, SA, which is the second of two equal instalments of the living subsidy for 2019, will be released to eligible employees on 4 July 2019."
Wynn Macau will take a little longer to get the additional funds distributed. It said in a press release last Friday that a "special bonus equal to one month's gross salary, will be paid on August 1, 2019 to all eligible Wynn Macau and Wynn Palace team members (excluding senior management)." The bonus is being given to "show the company's appreciation for the superior work performance and service levels delivered by the teams."
Many employees in the city would like for the bonuses to become a permanent fixture. The New Macau Gaming Staff Rights Association (NMGSRA) wants city officials to make the bonus a requirement, effectively making the casino industry offer a 14-month salary each year—all casino companies have routinely offered a bonus each December.
There were some concerns that the extra money wouldn't make it to employees this year due to Macau's year-to-date performance. The gross gaming revenue (GGR) in the city hasn't increased the way that many had anticipated due, in part, to the ongoing U.S.-China trade war that has kept VIP gamblers away. Now, at least, employees at SJM and Wynn can breathe a little easier knowing that some extra money—equal to anywhere from one to two months' salary—is coming their way.