Joao Vieira won his first bracelet after taking down Event #70: $5,000 No-Limit Hold'em 6-Handed, and Shawn Buchanan did likewise after winning Event #76: $800 WSOP.com ONLINE No-Limit Hold'em 6-Handed.
There are worse places to live than Portugal. Damascus, Tripoli and Lagos, to name a few. The weather's fab, they have a liberal sensibility, and on Friday, the Portuguese parliament passed a bill that made housing a citizen's right.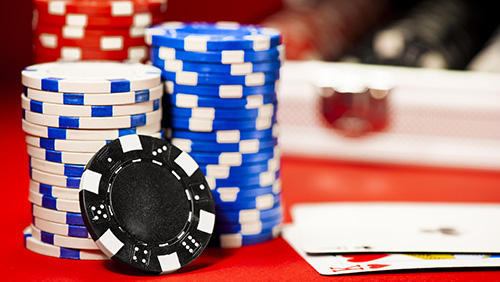 The 'Basic House Law' has been devised as a possible way to eliminate homelessness, by providing affordable public housing, and taking a sword to the current eviction process.
Portugal's own, Joao Vieira, doesn't abide by these laws when he's playing poker. As the cards fly out of the deck and become trapped beneath his wiry whorls, he has one intention—evict everyone, and that's what he did on his way to winning Event #70: $5,000 No-Limit Hold'em 6-Handed.
The Portuguese star howled like a full moon frenzied wolf with 117 bodies tangled and twisted in the Rio rails. The prize pool stood at $1,109,200, and the better part of $758,011 now sits in Vieira's bank account, after topping a final table containing a combined $30m in live tournament earnings.
Barry Hutter is one of the best in the business, and he ended Day 1 as the chip leader, surfing on that stack to the final table where he finished in the sixth position. Olivier Busquets is a live and online genius, and he punched his way to a fifth-place finish. Pierre Calamusa is a Winamax Ambassador (like Vieira), and Jamie O'Conner is an exceptional talent emanating from the U.K.
The rosemary to Vieira's lamb was the four-time bracelet winner, Joe Cada. It was a short and shrift heads-up encounter that only lasted four hands, mainly in part to the following monster pot.
With blinds at 100k/200k/200k, Vieira opened to 575k, and Cada made the call. The dealer planted 5h4h2d onto the deck, Cada checked, Vieira bet 550,000, Cada check-raised to 1,875,000, and the Winamax star called. The turn was the Kc, and both players checked. The river was the Ac, Cada led with a 2,000,000 bet, and then called when Vieira raised to 5,200,000. Vieira tabled 4c3c for the wheel, and Cada folded.
That hand gave Vieira a 17,500,000 v 6,600,000 chip lead, and two hands later it was 23,000,000 v 0 after the pair got it in AQ v AK with the Portuguese star holding the AK.
"I'm very happy," Vieira told PokerNews after his win. "I don't believe in justice, but I believe in hard work. Winning five bracelets is one of my main goals. This is the first one, and it's a huge burden off my back."
The Winamax Pro now has $3,370,037 in career earnings and sits atop of the all-time money list in Portugal. The win was his sixth cash of the summer, and 2019 has been his biggest winning year to date, up to $1,195,125 from 2018's $876,766.
Final table results
1. Joao Vieira – $758,011
2. Joe Cada – $468,488
3. Jamie O'Connor – $317,956
4. Pierre Calamusa – $219,468
5. Olivier Busquets – $154,112
6. Barry Hutter – $110,127
Three other beasts who were more trusted paperback than Kindle in this thing were bracelet winner, Ankush Mandavia (8th), live and online star Chris Hunichen (12th), and bracelet winner, Chris Brammer (20th).
Bucky wins Event #76: $800 WSOP.com ONLINE No-Limit Hold'em 6-Handed
Each year, there is an invisible list of the best players in the world never to win a bracelet, and Shawn Buchanan is on that list no longer.
Playing under the pseudonym "bucky21," the Canadian star defeated a field of 1560 entrants to carve $223,119 from the $1,170,000 prize pool after beating David "Youngpitts" Baker, heads-up.
The win should come as no surprise as Buchanan has six Spring Championship of Online Poker (CCOOP) titles and a World Championship of Online Poker (WCOOP) title to his name. It was his ninth cash of the summer, and he stopped Baker from collecting his second bracelet of the series, after winning a $1,500 Limit Hold'em event.
Barry Hutter enjoyed his second deep run of this article, falling just short of a second final table at the WSOP to add to the four he's had in the Aria 10k High Roller events one of which he took down for a $150,000 payday.
Final table results
1. Shawn "bucky21" Buchanan – $223,119
2. David "Youngpitts" Baker – $137,241
3. Hunter "ibinkustink" Gebron – $96,993
4. Alexandre "Apalexpex" Moreira – $69,381
5. Luigi Andrea "BananaSplit" Shehadeh – $50,310
6. Jeremy "gimmiehaveit" Brown – $37,089
7. Barry "puigmyfriend" Hutter – $27,612
8. Lauren "sycamore22" Roberts – $20,826