David 'ODB" Baker wins bracelet #2, seven-years after winning his first, and thieves hold Joe Sal at gunpoint as they rob him in the Rio car park.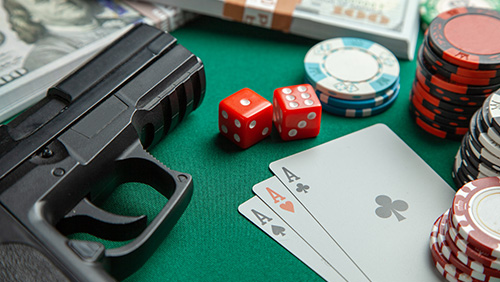 There are times when all the planets of the solar system align, and the Poker Gods pull you towards the gold bracelet like the Death Star's tractor beam on the Millenium Falcon, only this isn't a Death Star, it's a really, really, nice star.
David "ODB" Baker took the chip lead on Day 2 of the 541-entrant, $1,500 Limit Hold'em event, and the times he abandoned it were as rare as drone strikes in Huddersfield.
It's Baker's eighth live tournament win, and it puts him on the cusp of the coveted Triple Crown after also winning the 546-entrant, $10,000 No-Limit Hold'em World Poker Tour (WPT) Championship Event at the Los Angeles Poker Classic (LAPC) earlier this year.
Baker won a million bucks for that WPT win, and he adds $161,139 to that haul with the remainder of the $730,350 sprayed around the other 82 players like coins in a fountain.
It's Baker's second final table of the summer, and ninth ITM finish. His previous run at a bracelet ended when he finished 3/88 in the $10,000 Seven Card Stud Championship.
It's not the first time that Baker has won a bracelet, but it's been a long time since he collected his first with Baker calling the seven-year radius "a huge burden." Baker first bracelet came in 2012 when he conquered the 477-entrant $2,500 8-Game event for $271,312.
Baker had to beat Greg Mueller, heads-up, to take that 2012 title, and Mueller made the final table of this one, finishing ninth, his second final table after winning the $10,000 H.O.R.S.E Championship at the beginning of June. There was also another final table for Chris Ferguson, his third of the summer, and his 16th cash. Jesus's best performance remains his 3/116 finish in the $10,000 Razz Championship.
Baker told PokerNews, that coming into the final table, Brian Kim, was the man he was most concerned would clothesline him over the rail, and the two ended up, heads-up, with Baker holding a 4.8m v 1.7m chip advantage, one that he never lost.
Final table results
1. David "ODB" Baker – $161,139
2. Brian Kim – $99,564
3. Dominzo Love – $68,353
4. Ruiko Mamiya – $47,747
5. Chris Ferguson – $33,948
6. Chicong Nguyen – $24,574
7. Kenneth Donoghue – $18,118
8. Danny Woolard – $13,609
9. Greg Mueller – $10,418
Three other stars of the game who snored their way to the deep end of the farmyard tractor of poker include Nick Pupillo (10th), Matt Glantz (15th), and Daniel Negreanu (20th).
Ferguson moves up to eighth in the Player of the Year stakes after finishing fifth.
WSOP Player of the Year
1. Daniel Zack – 2,920
2. Philip Hui – 2,830
3. Shaun Deeb – 2,458
4. Anthony Zinno – 1,443
5. Scott Clements – 2,368
6. Jason Gooch – 2,333
7. Upeshka De Silva – 2,162
8. Chris Ferguson – 2,140
9. Ari Engel – 2,123
10. Robert Campbell – 2,034
Man held at gun point in Rio car park
We move from a happy tale to a terrifying one, after Cleveland poker pro, Joe Sal, tweeted this.
Just got robbed at gunpoint at @wsop Pavilion parking lot of the Rio.Guy jumped out of car in camouflage, shoved a gun in my face and demanded my backpack with thousands in it and the keys to my car. scariest moment of my life #wsop2019 #wsop @CaesarsEnt retweet for awareness.

— JoeySal (@JoeSalOG) July 1, 2019
The 50th Anniversary WSOP has been the most successful of its kind, with $153,035,865 in tournament winnings, alone, passing through people's hands in the Rio, through the first 66 events, and that makes it an obvious target for thieves.
Typing on Twitter, Sal said he had 4k in chips and $500 in cash in his bag when someone robbed him at gunpoint at 4.05 am, demanding the bag and the keys to his car.
Sal said it took him a while to find a security guard (he asked a waiter to alert security), and it took almost an hour before Rio's security notified police, with Rio's staff telling Sal they were "on hold."
Numerous people joined the stream to share similar stories, past and present, not exclusive to incidents at the Rio, but either Vegas or casino related. The former WSOP Main Event winner, Greg Merson, said he had been "'worried about this for years.' Andrew Neeme said it's "pretty amazing the lack of security out there.", And Jon Turner labelled the Caesars security effort, "pathetic."
Caesars released an official statement on the incident urging players to ask for security escorts to parked cars, to utilise safe deposit boxes, and use wire transfers. Metro police said they are reviewing surveillance video but aren't releasing it at this time.
​