partypoker prepares online cash games with fixed buy-ins, a new tributary into live events, and a Brit wins a million bucks on a $5 SPIN.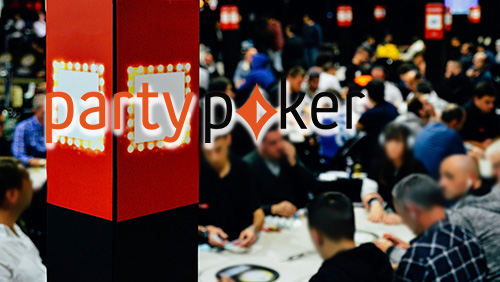 It's judgment day at partypoker as player aliases change in a bid to render heads-up displays (HUDs) useless. It's one of the fifty-plus changes partypoker plan to stop the rot caused by grinders who have become more proficient at finding leaks than a Welsh gardener.
This morning, as the barista blew his Samaritans balloons with the professionalism of a Big Top clown, I read a Pokerfuse exclusive declaring party's intention to implement a 100bb fixed buy-in rule for online cash games.
The pesky short-stackers are salad cream, and this idea is mayonnaise. Plenty will hold the same hymn sheet on this one in another popular move picking up a head of steam throughout the poker community.
Phil Galfond introduced a fixed buy-in model during the RunItOnce's launch, 888Poker has a three-tiered buy-in model, and although PokerStars haven't got wet behind the ears, they have dipped a toe in by creating fixed buy-in rules for a variety of non-traditional games.
Pokerfuse believes partypoker will implement the changes by the end of June.
partypoker to offer online Day 1 and Day 2 tributaries into live events
partypoker will allow players to compete in live events, online, and not in the traditional satellite sense. Players can compete in Day 1 and Day 2 live events, playing online at partypoker in parallel to Day 1 and Day 2's held at the live host venue. The two groups merge on Day 3, and everyone is in the money.
The changes help workers take fewer days off and gives travelling players some spare change to spend on accommodation and other expenses through the min-cash.
Here is Rob Yong explaining the new changes in this Tom Cruise style Minority Report video.
https://youtube.com/watch?v=V4zl6tKJN3k
James "James23C" Carmichael becomes first partypoker SPINS millionaire
One minute you're staring in the mirror, brain in pain as your eyes try to focus on the grey hairs at the back of your head, tweezers posed, and the next, you're playing in a $5 buy-in SPINS on partypoker, with $1m up for grab – intense pressure, and I'm not talking about plucking a good hair.
It's a situation that Britain's James "James23C" Carmichael, Peru's 'nilverlobo' and Mexico's- "elielalbiter" were in on Tuesday when all three had to contend with the joy of winning $100,000 for a $5 investment juxtaposed against the potential loss of $900,000 during heads-up play.
The affair took 19-hands, and for once, the grandiosity of the setup received a fitting finale.
Carmichael got it in holding Kd9d against the pocket sixes of "elielalbiter." The 6dTh4d flop gave "elielalbiter" a set, but Carmichael a flush draw, and the 8d on the turn filled him up. Possibilities of a boat sank on the river, and the Brit had won $1m with the other pair banking $100,000.
"My life will never be the same again," said Carmichael.
And neither will your partypoker pseudonym.​