Friday 17th May 2019 – The EGR B2B Awards are just around the corner and Racing Post is delighted to announce that it has been nominated for Multi-channel supplier of the year.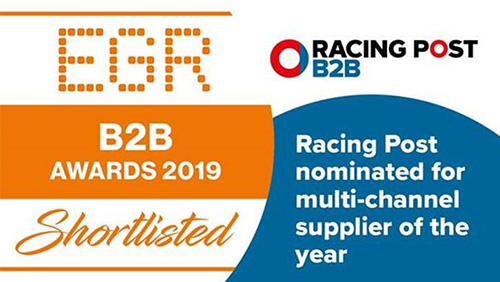 The ceremony, which is to be hosted at the Tower of London on Tuesday 25th June, sees some of the biggest names in the betting and gaming industry congregate to recognise the companies that are making a difference and striving to innovate.
It is one of the most important events in the industry worldwide and Racing Post looks forward to taking on some of the most established companies in the industry, including the likes of Playtech and Lottoland.
Racing Post is the market leader in providing enhanced data, editorial content and multi-media solutions covering horseracing, football and other sports, in a variety of formats and via different channels for use in both digital and retail.
Reacting to the news of the nomination, Eugene Delaney, Racing Post B2B Director spoke about his excitement for Racing Post B2B to receive this recognition. "We are thrilled to be nominated for this award at one of the most prestigious awards events in the industry's calendar. The team works tirelessly to constantly innovate, providing different ways for our customers to utilise our content so fingers crossed they get what they deserve."
To find out more about the event visit https://egrb2bawards.awardstage.com/.