BtoBet further strengthen Latam footprint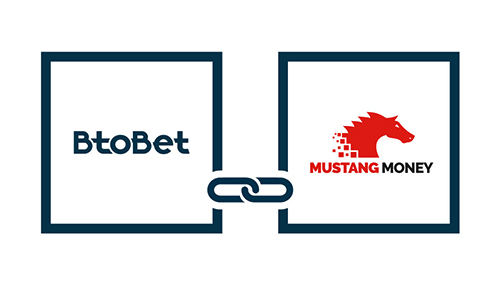 In a move that further strengthens its footprint in the Latin American market, BtoBet has announced a partnership with the strategic alliance forged between The Logrand Entertainment Group and Ainsworth in the launch of the Mustang Money brand in the Mexican real money online casino market. Backed by Ainsworth's expertise and through a strategic alliance with Mexico's leading casino operator The Logrand Group Entertainment, Mustang Money offers the most diverse line-up of slot games, table games, live dealers, bingo, video poker, and sports wagering.
Mustang Money will have at its core the Neuron Gaming technology, which has been widely acclaimed by the industry's experts for its high customizability and flexibility, which will enhance the Mustang Money brand unicity, and further strengthen Ainsworth and Logrand's reputation in the casino scene.
Alessandro Fried, BtoBet CEO, stated that the company's partnership with Ainsworth and Logrand is true testimony to the company's commitment to provide the best technological solutions for all iGaming markets notwithstanding their micro requirements. "One of the main strengths that characterize our Neuron platforms is the high adaptability to the various market necessities, whether we are operating in a mature or emerging market. This, coupled with the very high standard of player experience that is synonymous with our iGaming solutions, fills me with confidence that the collaboration brought about by this partnership will evolve into a successful story that will grasp all the opportunities that the Latam market keeps in hold."
Felix Alcolea, Logrand's Online Projects and IT Manager, stated that BtoBet's Neuron technology and its casino management systems will allow Mustang Money to offer a platform with various features designed to ensure a positive player experience. "Neuron's versatility and continual evolution will allow us to be in tune with an ever-changing industry. I am positive that through this partnership Mustang Money will emerge as a leader in the Mexican online gambling market, providing an excellent and unique experience to our fold of players."
Jason Lim, Ainsworth's General Manager of Online Gaming and Interactive, stated that "with a market share of almost 20% in the land-based casino gambling space in Mexico, Ainsworth is well positioned to transition into the online real money wagering space." He said that Ainsworth's hard-earned expertise in operating online and social gaming platforms on a global scale are important factors that allow the company to offer a unique take on online gambling. He further added that he is positive that through the strategic partnership with BtoBet, Mustang Money will eventually evolve into a leading brand and set the standard for the Mexican online-gaming scenario. "The ability to offer a while label product that can adapt itself to different market regulatory conditions and operational scenarios gives BtoBet a competitive advantage when compared with other similar products on the market."
About BtoBet.
BtoBet is a multinational company and is part of a group with 20 years of experience in software development in IT, telecommunication, e-commerce and banking, strongly committed to technology and widely investing in technology research and development. The experience gained at the forefront in these advanced environments, compared with the more recent gambling industry, allows BtoBet to be visionary with a deep understanding of the requirements of the market, catching changing trends and anticipating bookmakers' and operators' needs. BtoBet is a true partner in technology, offering a standalone platform and services for the iGaming and Sports Betting industry. It counts on a very talented, continuously trained development team and day to day management support to clients. BtoBet allows licensees to be unique in the market, by giving them the opportunity to completely personalise their offers for Sports betting and iGaming business, online mobile and retail. BtoBet has technical branches with large ever-growing teams of developers in Skopje, Ohrid, Bitola, Belgrade, Nish, Tirana, and Rome. Malta hosts the commercial and marketing centre. Visit our site on: www.btobet.
Comments