Poker Master, Ali Imsirovic, has emerged as a contender for the 2019 US Poker Open after beating Cary Katz, heads-up, to win Event #5: $25,000 No-Limit Hold'em. 
When it comes to the career of Ali Imsirovic, you can still smell the sulphur dioxide. Relatively new to the high roller scene, it's going to be a long time before he becomes a burnt match.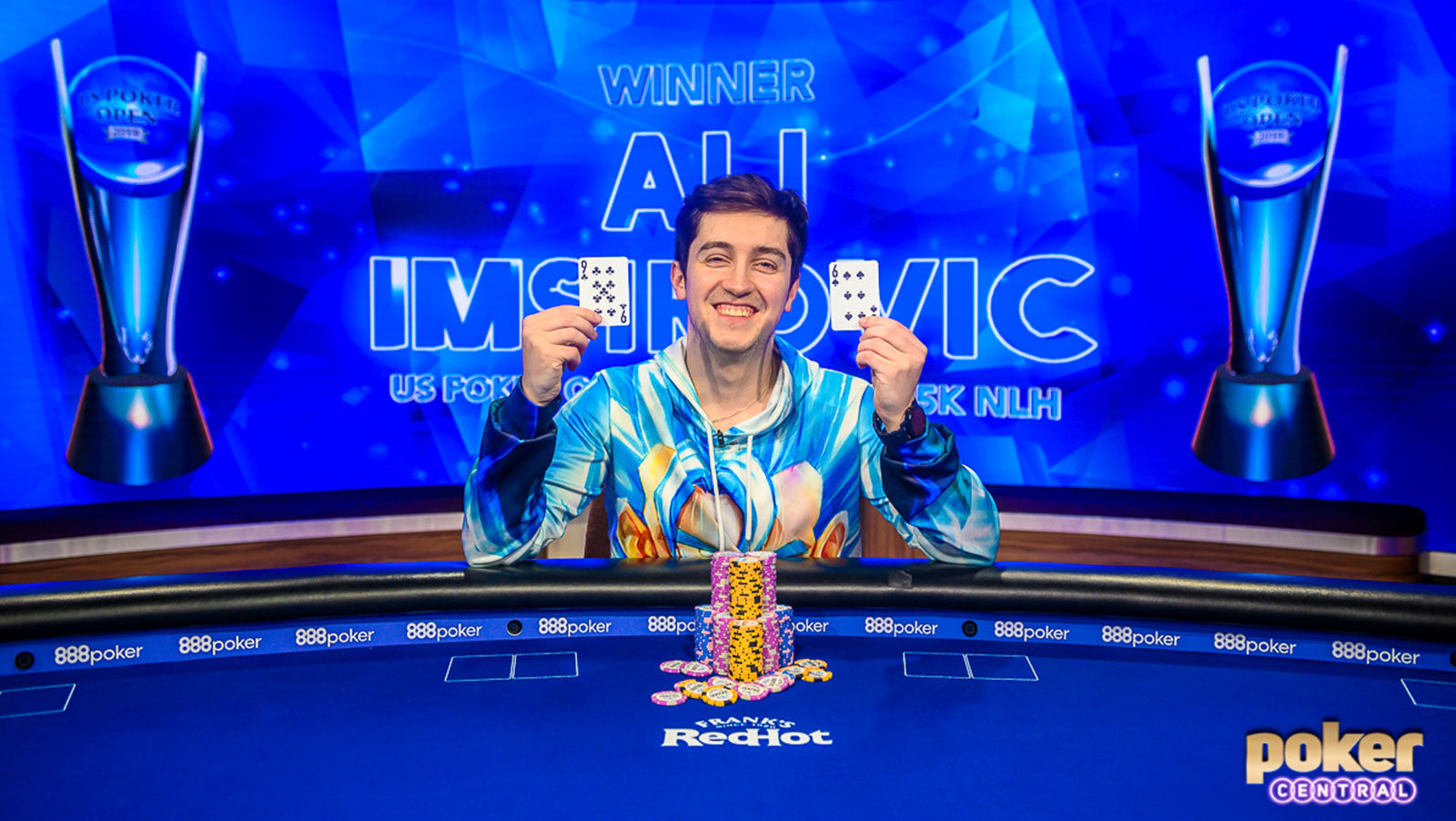 In the Fall, Imsirovic won the Poker Masters, and yesterday, he threw his hoodie into the ring to become the 2019 US Poker Open by winning Event #5: $25,000 No-Limit Hold'em.
It was a whizz-bang wallop of an affair.
59-entrants created a prize pool of close to $1.5m, and this is what the final table looked like at the end of Day 1.
Final Table Seat Draw
Seat 1: Cary Katz – 260,000
Seat 2: Nick Petrangelo – 1,415,000
Seat 3: Kristen Bicknell – 1,545,000
Seat 4: Dan Shak – 1,560,000
Seat 5: Ali Imsirovic – 2,505,000
Seat 6: Joseph Cappello – 95,000
The two short-stacks started lively after Cary Katz doubled through Ali Imsirovic when his A8 beat K8 all-in, pre-flop, and Joseph Cappello's KJo beat the 82o of Dan Shak under the same circumstances.
Cappello's revival was short-lived when he moved all-in for 175,000 over a Nick Petrangelo open only for his AK to lose against KJ when Petrangelo called and rivered Broadway. Cappello was out in sixth place, four days after finishing fourth in Event #1.
Then we lost the last remaining female player.
With blinds at 30k/60k/60k, Kristen Bicknell moved all-in for 755,000 from the button, and Dan Shak isolated her with his own push from the small blind. Bicknell turned over QhJc, and she was racing against Shak's pocket nines. The queens and jacks remained in the deck sending Bicknell to the rail in fifth place.
Nick Petrangelo quickly followed her.
Ali Imsirovic opened to 120,000 on the button, and then called after Petrangelo moved all-in for 18 big blinds holding pocket jacks. Imsirovic called and showed pocket aces. Petrangelo flopped a set, but so did Imsirovic. The turn and river bricked for the former Global Poker Index (GPI) #1, and we were down to three-handed play.
Heads-up followed soon after.
Imsirovic opened from the first position, and Dan Shak defended his small blind. The flop contained more spades than a serial killers garden shed 9s3s2s; Shak checked, Imsirovic bet 75,000, and Shak called. The turn card was the 3h, and Shak led for 150,000, Imsirovic raised to 550,000, Shak moved all-in for 1,920,000, and Imsirovic called. Shak turned over 9d8s for top pair, and Imsirovic showed Ks3d for trip threes. The Tc landed on the river, and Imsirovic walked into a lopsided heads-up battle with Cary Katz holding a 6.7m v 680k lead.
After the pair enjoyed a brief break, Imsirovic opened to 180,000 holding 9c6s, and Katz defended his big blind with Kc5c. The dealer put the spicy looking Qs6c2c onto the flop to give Catz a flush draw, and Imsirovic middle pin. The pair got it in with Katz, the aggressor, and the turn and river bricked for the Poker Central founder. Imsirovic was our winner.
Imsirovic has now earned more than $3.9m playing live tournaments, a mere drop in the ocean for those flying around the world in private jets, but you sense those digits will keep rising. Not only did he win the Poker Masters, but he also finished seventh in the Super High Roller Bowl V in December.
Final Results
1. Ali Imsirovic – $442,500 (200 pts)
2. Cary Katz – $295,000 (140 pts)
3. Dan Shak – $206,500 (100 pts)
4. Nick Petrangelo – $147,500 (80 pts)
5. Kristen Bicknell – $118,000 (60 pts)
6. Joseph Cappello – $88,500 (40 pts)
Brandon Adams (7th), Chris Hunichen (8th) and Justin Bonomo (9th) also made the money.
2019 US Poker Open Leaderboard
1. Sean Winter – 440 points
2. Stephen Chidwick – 340 points
3. Jordan Cristos – 240 points
4. Ali Imsirovic – 200 points
5. Cary Katz – 200 points