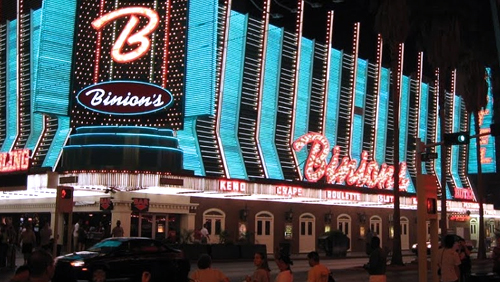 When many people – especially well-seasoned individuals – think of Las Vegas and poker, one name often comes to mind, Binion's. Binion's Gambling Hall was the original home of the World Series of Poker (WSOP) and has been a standard fixture in Downtown Las Vegas since it was founded by Benny Binion in 1951. Now, the icon is being revitalized and is undergoing an expansion that will see Binion's bigger and brighter than ever.
Binion's was purchased by TLC Casino Enterprises in 2008 for $32 million. Not much has been done since, but the increase in Vegas activity has spurred a number of new projects, leading TLC to decide that it was time to update Binion's. The company plans on adding a full-service saloon and Binion's GM Tim Lager adds that the venue will have "the modern thing," in reference to items such as flat screen TVs and USB ports, but will still retain a lot of its old-school charm, complete with hardwood floors, lace curtains and stained-glass windows.
The full-service saloon to be added is the Whiskey Licker Up Saloon. It will be located above the original Whiskey Licker Bar and will offer "drinks, dining, dancing, live entertainment, and even a mechanical bull" with a huge rotating bar as the centerpiece.
In addition to Binion's, another Vegas icon owned by TLC is going to be restored. The Apache Hotel, which is a part of Binion's and has sat empty for the past ten years, will reopen this summer as Hotel Apache, offering an 81-key boutique hotel that features "vintage-style furnishings reminiscent of the original Hotel Apache." The Apache Hotel was one of the first in Vegas, opening its doors in 1932.
Downtown Las Vegas is currently undergoing a massive face-lift. Several new projects are coming to the skyline, as well as the renovation of many others. Derek and Greg Stevens, owners of "The D" casino and others, are launching the Circa Resort & Casino, expected to open next year. It will be a 44-story structure with 777 hotel rooms, a sports book and a two-level casino. Another venue, the Downtown Grand Hotel & Casino, is getting its third hotel tower, which will offer 500 new rooms and suites.