Belgian, Bart Lybaert, continues to prove he's from another planet; following up his side event win at the PokerStars Caribbean Adventure with a second win at the Aussie Millions.
Belgium has become the seventh country to ally with Luxembourg on a framework designed for companies to benefit from matter retrieved from celestial bodies in space.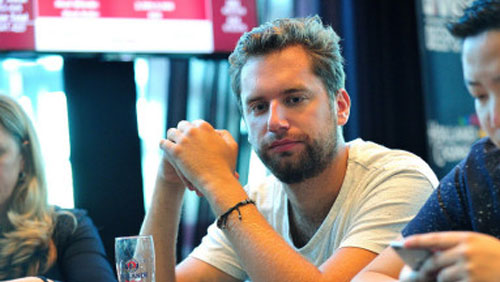 Water.
Cobalt.
Aluminium.
Alien DNA.
Ok, maybe the last one isn't true, but if it was, and we were able to steal a few eyelashes from Bart Lybaert, we'd discover he's from another world.
The Belgian star flew into Melbourne, Australia (spaceship or bog-standard jet, who knows), direct from The Bahamas, where he used his stun gun on the 863-entrants who joined him in the $2,200 No-Limit Hold'em (NLHE) side gig at the PokerStars Caribbean Adventure (PCA) to bank a spectacle steaming $250,391 and immediately won another event.
Lybaert took a torch to the 542-entrants that made up Event #6: AUD 1,150 No-Limit Hold'em Six-Max and stood triumphantly on top of the funeral pyre with $89,536 beans in his back pocket after the cleaners slipped rubber gloves over their hands to clean away the errant pistachio shells, and discarded fingernails.
The man who stood in the way of a seventh tournament win for Lybaert was in tip-top condition. Travis Endersby's runner-up finish sees him cash in 50% of the first six events coming 159/1752 in the AUD 1,150 NLHE Opening Event, before making the final table of the 180-entrant AUD 1,150 NLHE Shot-Clock Shootout event, finishing eighth.
Endersby began the final galactic war with a 3:1 chip lead, but Lybaert used his alien technology to nail the Australian to the cross so he could squeeze another $90k into a cash register that already contains $2.8m.
Lybaert remains fourth in the Belgian All-Time Live Tournament money list. Davidi Kitai leads with close to $10m. Kenny Hallaert sits third, a few coins above the $4m mark, and Pierre Neuville is second with $4.5m.
When you think about it, perhaps they're all aliens.
Phil Hellmuth thinks Kitai is.
Hallaert blew his cover during his recent exploits at the World Series of Poker (WSOP).
And Neuville's been beating the crap out of poker players for so long, in his recent autobiography he claimed that Jesus was one of the people he had mentored.
Alien DNA, my friends.
Alien DNA.
Final Table Results
1. Bart Lybaert – $89,536
2. Travis Endersby – $59,540
3. Ong Dingxiang – $35,212
4. Ta-Wei Tou – $25,978
5. Gautam Dhingra – $17,950
6. Michel Bouskila – $12,931
7. Ali Ghezelbash – $8,917