Is 2018 finally over? You bet it is. Vegas has 10-1 odds. Let's all take a moment to reflect on some of the fun things that happened while we all figure out where exactly we are and where we put our various articles of clothing, and what exactly happened last night.
A Year Beginning With Happy Endings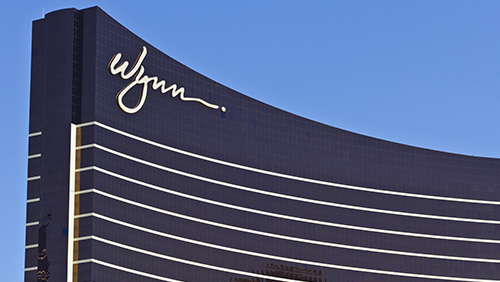 It was a year, first and foremost, of many happy endings, particularly for Steve Wynn, who happily ended his tenure as CEO of Wynn Resorts, after experiencing one too many happy endings from manicurists who were not his wife but whom speculators believe gave really amazing manicures.
The fallout from the allegations had us all captivated for days, profusely sweating gratitude that we would have at least a few hours respite from news stories about Stephanie Gregory Clifford – porn star name Stormy Daniels – and Donald Trump's sex lives, allowing us to all concentrate on far more pressing matters like Steve Wynn's sex life. Wynn, whose porn star name according to the Porn Star Name Generator is "Gunnar Dangle" denied the allegations "hotly", according to an NBC News expose on the matter that was basically ripped off from the Wall Street Journal. Except for the word "hotly," which ironically does not appear in the original WSJ piece. It was then copy-pasted to NBC by a reporter by the name of "Corky", who to my surprise is actually not a porn star, but the brother of actor Kazimierz "Casey" Siemaszko, of Three O'Clock High fame, one of my favorite 80's movies.
In his defense, Wynn was quoted as saying, "The idea that I ever assaulted any woman is preposterous." This is an actual quote, unlike most others in this article. Wynn was then berated by social justice warriors for chauvinistically presuming the gender of every single person he never assaulted.
As for Wynn's company Wynn, it sprang to Wynn's defense in a statement, also real, detailing that the company requires all workers to undergo anti-harassment training where all learn how to not harass one another in harmony, and that Wynn Resorts has an employee hotline (emphasis mine) "…that any employee can use anonymously (and hotly), without fear of retaliation (except by Steve Wynn)." The statement continued, again for real, this time without any editorial addenda, "Since the inception of the company, not one complaint was made to that hotline regarding Mr. Wynn."
This completely settled the matter, since nobody called the hotline.
Meanwhile, Wynn's ex-ex-ex wife Elaine, whom he married, divorced, remarried, cheated on, divorced again, and has yet to re-remarry, got a bit miffed when Wynn's board of directors was considering divesting from the casino's new project at Wynn Boston Harbor at precisely the same time that the Massachusetts Gaming Commission was looking into why exactly the Wynn Resorts Board of Directors did not disclose payment for what turned out to be a $7.5 million manicure, known in some circles as a "hand job". In its defense, the Board issued another statement, which for legal purposes I am making up, insisting that Steve told them, quote "The 'manicure' was tremendous, I mean really, really great, worth every dollar!" The Board was subsequently sued by the White House for plagiarizing an old tweet from Donald Trump.
The one major bright spot from this whole tawdry affair was that after the manicure remuneration was finally disclosed and incorporated into Wynn's books, the gender pay gap in the United States for 2005 was narrowed by two whole cents.
Oops! PASPA Was Unconstitutional This WHOLE TIME!
Around the time that Elaine Wynn was attacking the Wynn Board of Directors for grossly overpaying for Steve's manicures, the Supreme Court did something that actually made sense and overturned the Professional and Amateur Sports Protection Act, AKA PASPA, AKA the Bradley Act, which back in 1992 made wagering on sports illegal across America except for the firms that were already doing it. Asked back then why the law exempted states that were already engaging in sports betting if the purpose of the law was to protect sports from sports betting, the legislation's sponsors issued the following statement, "Too much protection takes all the fun out of it. Plus you can't stop in the middle."
The logic behind the ruling finally overturning PASPA that transformed the United States gambling industry overnight was that PASPA violates the 10th Amendment, which states that the powers not delegated to the United States by the Constitution, (like prohibiting sports betting), nor prohibited by it to the States, are reserved to the States (or to Steve Wynn).
Immediately upon publication of the court's decision, a mass exodus from federal penitentiaries ensued across the country as anyone who was ever arrested for wagering on a sports game without adequate protection, was freed. A report from the Federal Bureau of Prisons indicated that this wave of federal prisoners included "about 3 entire people and an aging dairy cow from Minnesota staked as collateral for a bet placed on the very first WNBA preseason game back in 1997."
The driving force behind the Bradley Bill, Bill Bradley (seriously), former New Jersey Senator and former NBA All Star who played for the New York Knicks in the 60's and 70's and lost the democratic presidential nomination to Al Gore, and who was just trying to protect himself from being bet on, issued the following statement on the unconstitutionality of his namesake law: "Unfortunately, I didn't last all the way to the 10th Amendment, but at least I had protection." For those interested in pursuing further research, Bradley's porn star name according to the Porn Star Name Generator can be found here.
Meanwhile, In the UK…(And France)
While all this was going on, the UK House of Commons decided to cut the maximum stakes on fixed odds betting terminals to £2 a spin, in a bid, once again, to protect gamblers. This time from gambling. With absolutely no possible way to stake bets above £2 at a time anywhere, ever again, (just like there's no way to get any illegal drugs in the country either or pay for sex, even though
the illegal drug and prostitution industries have been officially incorporated into UK GDP since 2014 as an excuse for government to spend more money), the phenomenon of gambling addicts in the UK suddenly disappeared, like, overnight, and all was well. And UK gambling stocks collapsed.
The House of Commons then began to focus entirely on the much more pressing matter of Brexit, which hard-working politicians have been diligently working on ever since, accomplishing, according to regional political experts who are paid a lot of money for their political analysis, "pretty much nothing." In related news, the porn star name for "House of Commons" is Johnny Jiggler.
The UK also jacked up its Remote Gaming Duty to 21% from 15%, on the understandable grounds that the government wants more money to protect us from Brexit, which will kill us all. Defending the move, the UK Gambling Commission began an ad campaign featuring the now very well known slogan, "Jacking up is the best form of protection."
Overexcited and all hot and bothered by all the tax increases going on all around him, French President Emmanuel Macron, AKA The Robbed Cradle, AKA Spanky Maxim (see previous link and substitute "Emmanuel Macron" for "House of Commons"), decided to try his hand at some tax increases himself and strike while the iron was hot. But he needed a bigger and better reason to jack up taxes, so he tried to convince people that he was saving the planet with a fuel tax of 30 cents a gallon, on the logic that the government needs more money to save us all from climate change.
In response, the French all started going batsh** crazy, deciding as a nation that the best thing to do now was to all dress up in those reflective yellow traffic vests as if to all change their tires on the side of the road simultaneously but instead of actually change the tires, burn the tires and throw them at the government. This upset Macron's save-the-planet plans by offsetting the expected decrease in the French national carbon footprint. In an attempt to quell the popular uprising, Macron promised to raise the minimum wage. This, as always, solved everything, and France can now enter the New Year in peace.
And, heaven willing, so can we. As soon as we find our clothing.