3: Barrels of a World Series of Poker vintage including a victory for Andrew White in the World Series of Poker Circuit in Sydney, a similar stunt in IP Biloxi for Kevin Johnson and Caesars Rewards cards to replace Total Rewards cards.
It's dark.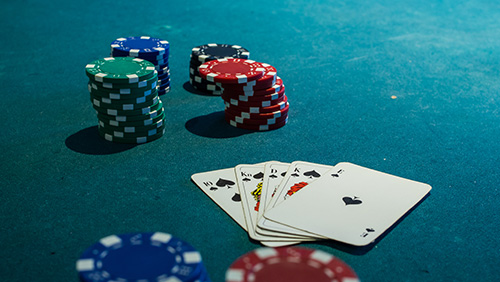 The only lights in the room come from the iconic Apple reflecting from the mirrored wardrobe hanging off the rails, and the humidifier switched to 'Sleep Mode' that sounds like a Boing 747.
And this screen.
My loving screen.
I have stared into this screen longer than all of my lover's eyes of the past 43-years, all two of them.
And I am feeling a little nostalgic.
I miss Las Vegas.
I haven't been back since Zia broke out of the egg and started to grow more substantial than the fibroids intent on stealing all of her food. I feel the pull. Maybe the 50th Anniversary would be an excellent time to return. Until then, I will think of an excuse to be there, and focus on writing about World Series of Poker (WSOPC) bracelets and World Series of Poker Circuit (WSOPC) gold rings, instead of trying to win them.
Let's begin in Sydney.
Andrew White Wins the $1,150 Monster Stack. 
The WSOP team must be doing cartwheels thanks to the success of their WSOPC event at The Star in Sydney. The numbers that paid homage to this great institution were incredible.
Jun Wang bumped off a field of 1,444-entrants to win the $81,249 first prize and a gold ring in the AUD 500 Opening Event. Matthew Wakeman conquered 216-entrants in the AUD 5,000 Challange banking $188,867. Luke Martinelli beat 50-entrants in the AUD 20,000 High Roller for a career-high $256,668, and Alex Lynskey won the AUD 2,200 Main Event overcoming a field of 1,191 entrants to win the $303,477 first prize.
The final gold ring went to Andrew White who shut the door on 155-entrants in a 12-hour bish, bash, bosh of a Monster Stack event. White took out a relatively inexperienced final table including the former Asian Poker Tour (APT) High Roller winner, Linh Tran, heads-up.
White had never won a poker tournament before, preferring to play cash games. It was only his sixth-ever cash, with nothing more than $3.5k ever seeing his back pocket.
And what does he think of tournaments now he's taken one down?
"It's just luck, mate." 
Here are the final table results: 
Final Table Results
1. Andrew White – $74,221.
2. Linh Tran – $45,888
3. Tony Kambouroglou – $33,523
4. David Neumann – $24,851
5. Michael Culling – $26,026
6. Adam Monaghan – $14,257
7. Selvan Eswaralingam – $11,029
8. Blake Lockwood – $8,654
9. Pratik Mehtah – $6,886
Two stars of Australian poker who went deeper than a sword down a sword swallowers throat were the former Syndey Championships Main Event winner, Daniel Laidlaw (12th) and the World Series of Poker (WSOP) bracelet winner, Jarred Graham (35th).
Kevin Johnson Wins The WSOPC Main Event IP Biloxi 
Kevin Johnson has been missing from the game for so long when the tournament organisers at the IP Hotel & Casino in Biloxi sent the results to The Hendon Mob (THM), they credited Johnson's results to a different Kevin Johnson.
"I felt pretty good coming in into the final table," Johnson told the WSOP after his win. "It was already the most I've ever won, so it was all a freeroll." 
Johnson returned to the grind after a five-year absence where he joined the real world and got a job, and this win validates that decision to some degree.
The 28-year-old Memphis man conquered a field of 382-entrants in the $1,700 buy-in Main Event IP Biloxi, and in doing so he took out a final table that housed a cracking collection of former champions and men in form.
The former WSOPC Main Event winner, Luke Graham, came into this one after having a decent year finishing 20/1663 in a $1,500 No-Limit Hold'em bracelet event at the World Series of Poker (WSOP), and a 7/372 finish in a WPTDeepStacks Main Event in Jacksonville. Matthew Higgins had won the gargantuan 2,608-entrant $365 WSOPC event in Harrah's Cherokee in April for $101,326. Benjamin Thomas had won a gold ring in a $400 game when the WSOPC visited a year ago beating 137-entrants.
Timothy Conroy finished 3/2370 in a $600 Deepstack event at the Borgata Spring Open for $91,864. Johnny Landreth is a multiple gold ring winner. BJ McBrayer had taken down a Heartland Poker Tour (HPT) Main Event in Vicksburg for $45,946 back in August.
And then there was Johnson, the rustiest man of them all, ending up on top.
And what will he do with the money?
"$10,000 of my win will go to the Main Event in Vegas." 
Final Table Results
1. Kevin Johnson – $127,319
2. Luke Graham – $78,678
3. Matthew Higgins – $57,491
4. Benjamin Thomas – $42,687
5. Timothy Conrow – $32,189
6. Johnny Landreth – $24,637
7. Dave Alfa – $19,133
8. Chris Matters – $15,070
9. BJ McBrayer – $12,038
Benjamin Thomas will join Johnson in the Global Casino Championships after winning the IP Biloxi Casino Champion title. Thomas cashed four times, making three final tables, and winning a ring when beating 137-entrants in a $400 event for £12,659.
Total Rewards to Become Caesars Rewards 
Players heading to the WSOP for the 50th Anniversary shindig will have to change their Total Rewards card after Caesars announced plans to change the name and coat of arms to Caesars Rewards.
Nothing changes except the name, unless you are a Platinum or Diamond member who can now earn points to stay at Caesars properties based in Las Vegas, Atlantic City or Dubai.
Caesars are asking locals to switch out the old for the new by February 1, 2019.