Citing positive numbers for Macau's casinos, workers in the sector are calling for a pay increase that would match the rise in consumer prices.
GGRAsia reported of at least three groups with employees from casino resorts that are asking for operators to raise salaries in 2019. Eason Ian Iu Chong, vice-president of the 1,800-strong Power of the Macao Gaming Association, said he was asking for a "3 percent to 6 percent" increase.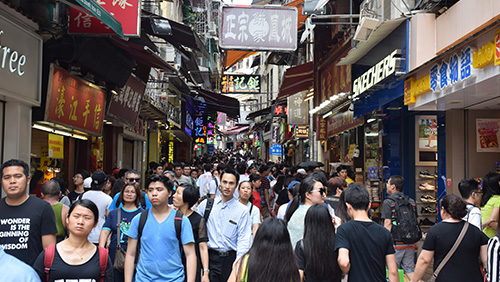 "Macau's economy is at least better than a few years ago when the gaming slump hit, so we think the casino operators should raise our salary and boost workers' morale," Ian was quoted as saying.
According to research website Trading Economics, the Special Administrative Region's consumer price index for October showed a 3.35% year-on-year increase, with transport rising 6.31%, and clothing and footwear going up 5.72%. Food prices saw a 2.91% year-on-year increase during the period.
Macau's six casino concessionaires had last implemented a salary increase in January, ranging from 2.5% to 8%, which Macau Gaming Enterprises Staff's Association Director-General Choi Kam Fu urged should be done again for 2019, at a rate "no less than this year."
Choi cited the present economy, particularly gaming, which more than allowed employers to provide the additional wages.
Inside Asian Gaming reported analysts from J.P. Morgan and Sanford C. Bernstein being encouraged by Macau's gross gaming revenue (GGR) for December so far, with J.P. Morgan's DS Kim and Sean Zhuang foreseeing at least 11% year-on-year growth for the month.
"We wouldn't be surprised to see December GGR printing mid-teens growth (unless demand/luck suddenly deteriorates here, which is rather unlikely), versus current consensus of +9% to +10% year-on-year," the analysts were quoted as saying.
Choi said that with the positive outlook for the industry, "firms should have the conditions to award their staff a share of their earnings in forms of pay hikes and bonuses."
New Macau Gaming Staff Rights Association head Cloee Chao said her group would be delivering a petition to each operator as well as to the Macau government, requesting the pay increase. "In the last couple of years the casinos have been awarding their dealers a [yearly] pay hike of 2.5 percent. I don't think it really eases that much the inflationary pressure here… For next year we would ask for a pay hike of at least five percent for the gaming workers," she said.
The Statistics and Census Service (DSEC) reported that in 2017, total employee compensation increased 7.4% year on year, to MOP21.3 billion ($2.6 billion), paid out to 56,634 workers in the sector.