Julien Stropoli takes down the Battle of Malta Main Event after beating his buddy, heads-up, to win the largest-ever live tournament held in the country.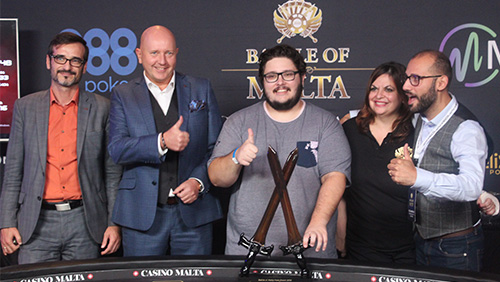 When your Prime Minister stands up at a United Nations (UN) conference and calls cryptocurrency the inevitable future of money you know you've arrived in a radically open-minded country.
So, maybe we shouldn't be surprised that the Battle of Malta (BOM) has managed to lure a record-breaking 3,816-entrants into its award-winning tournament, making it the largest-ever live multi-table tournament in Maltese poker history.
And the island has hosted some of the big boys.
The World Poker Tour (WPT).
The PokerStars European Poker Tour (EPT).
Players from 55-nations attended the event, with a vast majority of them living in the country thanks to the open-mindedness of PM Joseph Muscat when it comes to all things gambling.
The only canary emerging from the coal mine with a voice intact was Julien Stropoli, who beat his compatriot, and good friend, Maxime Canavet, heads-up, to claim €168,500 in prize money, and the most ridiculous trophy I have ever seen (fortunately, Stropoli lives in Malta so won't need an additional suitcase to cart his two swords home).
The 2018 BOM seemed to be sipping hot chocolate in its slippers such was the ease in which they took a baseball bat to their previous record field of 2,074 entrants, in the first year after switching the event from the Portomaso Casino to Casino Malta.
Stropoli, a former Magic The Gathering Pro, accepted €138,500 during a five-way deal that left €50,000 up for grabs. Runner-up, Canevet, took the lion share, banking €192,000. It was the first tournament win for Stropoli who had only ever cashed in five previous events with a third-place finish in the Unibet Open in Malta back in May for €25,630, his most significant chunk of change to date.
The final table also included the Grosvenor United Kingdom Poker Tour (GUKPT) Champion Andy Hills (6th) and the two-time Unibet Open Champion Mateusz Moolhuizen (8th).
Final Table Results
1. Julien Stropoli – €168,500*
2. Maxime Canevet – €192,000*
3. Erik Ostergaard – €139,500*
4. Mantas Urbonas – €121,500*
5. Abdallah Fakhreddine – €108,500*
6. Andy Hills – €53,000
7. Gustav Vadenbring – €41,000
8. Mateusz Moolhuizen – €30,000
9. Jerry Mangum – €23,000
*Indicates a five-way deal.
Here are the final table highlights

BOM is the first of two significant low buy-in events to hit Malta like a pool player smashes the white ball as the Malta Poker Festival sets up shop at the Portomaso Casino Nov 1 – 6.