Malta Blockchain Summit (MBS)
The inaugural Malta Blockchain Summit will take place at the Intercontinental Hotel in Malta's St. Julians, welcoming blockchain enthusiasts from around the world to what is set to become "Blockchain Island".  With Malta's new regulatory framework, the island is ripe to host blockchain companies and cultivate this innovative technology that is set to change our world.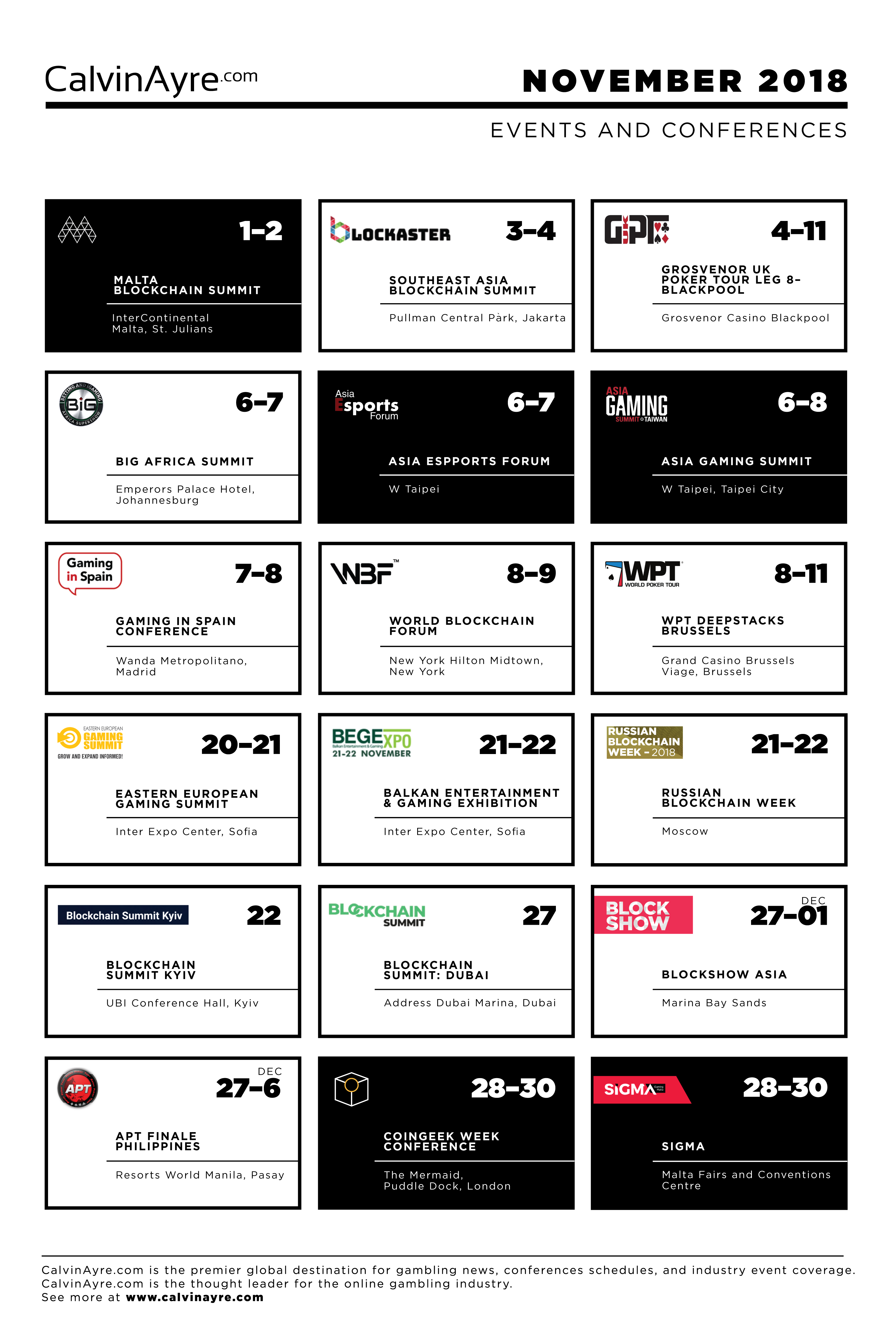 Attendees can expect a buzzing expo floor with up to 5,000 delegates, a series of sessions, a hackathon, ICO pitch, blockchain awards, official closing party and big names such as the Winklevoss Twins and John McAfee.
What: Malta Blockchain Summit
When: November 1-2, 2018
Where: Intercontinental, St. Julians
Register: Online
Asia Gaming Summit (AGS)
Now in its second year, due to popular demand, the Asia Gaming Summit will return to the W Hotel in Taipei, covering the latest in regulations, trends, innovations and other developments in the Asia gaming market.
The first day of the event will focus on the future of the Asia gambling industry, the second day will focus on disruption in technology and payment solutions and the third day featured post-conference workshops.  Delegates will also enjoy over seven hours of networking opportunities throughout the event including a poker tournament and official networking drinks.
What: Asia Gaming Summit
When: November 6-8, 2018
Where: W Taipei, Taiwan
Register: Online
Asia eSports Forum
The inaugural Asia eSports Forum will take place across two days at the W in Taipei, dedicated entirely to the exploding eSports industry in Asia.  Global and local eSports communities, professionals and enthusiasts will gather to discuss market trends, industry updates and business opportunities in the Asian eSports space while enjoying a variety of sessions and networking opportunities with like-minded peers.
What: Asia eSports Forum
When: November 6-7, 2018
Where: W Taipei, Taiwan
Register: OnlineAsia eSports Forum
CoinGeek Week Conference
Join the true pioneers in cryptocurrency and blockchain at the CoinGeek Week Conference, a historical, knowledge-sharing event to discuss the unique advantages of Bitcoin BCH and the blockchain that powers it.  Sessions have been crafted to address issues faced by miners, developers, merchants, futurists, enthusiasts, newbies, investors and more.
A variety of ticket options are available for this event, one, two or three-day tickets and free entry into a legendary after-party for those who go with the two or three-day option.  Don't miss this once-in-a-lifetime opportunity to be a part of Bitcoin BCH's future and the chance to network with like-minded professionals, all under one roof.
What: CoinGeek Week Conference
When: November 28-30, 2018
Where: The Mermaid, Puddle Dock, London
Register: Online
SiGMA
The fifth annual edition of SiGMA will take place in Malta over the course of three days instead of two, with a record-breaking projection of 12,500 iGaming industry attendees coming in from over 80 countries.
Delegates can expect the usual busy expo floor (this year the organizers custom-built even more space to accommodate the growth in numbers), a selection of relevant sessions, an awards ceremony, a number of official networking events and an enormous amount of fun as always.
What: SiGMA
When: November 28-30, 2018
Where: Malta Fairs and Convention Center
Register: Online
Comments