Poker Central, the home of anything poker-related worth a watch, has revealed the schedule for the 2019 US Poker Open, including a $100k cherry.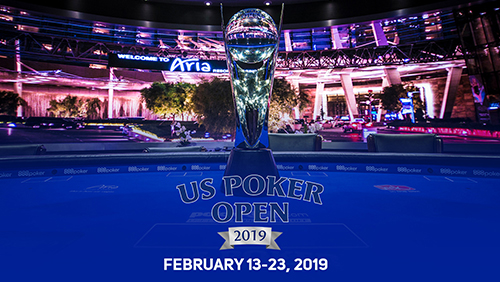 The Poker Central team is a busy bunch. There isn't a week that goes by without a piece of write-worthy news landing in my email tray in between layers of wham; bam no thank you spam.
Today's gem concerns the 2019 US Poker Open.
At the back end of 2017, Poker Central announced plans to launch The US Poker Open. The made-for-tv show differed from Poker Central's other baby, The Poker Masters, as it scheduled alternatives to No-Limit Hold'em events such as Pot-Limit Omaha and a Mixed Games Championship. Added to the Super High Roller Bowl (SHRB) this triumvirate became known as The High Roller Triple Crown.
The Global Poker Index (GPI) World Number One, Stephen Chidwick, won the inaugural event (the results of which you can find below), and today, Poker Central announced the 2019 schedule.
As with the 2018 Poker Masters, Cary Katz and the team have made some changes.
There are ten events, not eight, and the average buy-in has increased from $25,500 to $29,000, thanks in large to a significantly bigger Main Event ($100k versus $50k). The Mixed Game Championship is deader than an egg left in a nest belonging to a bird hanging out of the mouth of a cat, and Short-Deck debuts in the US Poker Open at the $10k & $25k price points after a successful admission during the Poker Masters.
The event takes place at the PokerGO Studios, at the ARIA Resort & Casino in Las Vegas, February 13 – 23, with the action, streamed live for PokerGO subscribers.
As in 2017, the winner of the event will be the man (or woman) who earns the most money (gross) throughout the ten-games. To hook a few more players, Poker Central have agreed to give the winner an additional $100,000 in prize money.
And there's a cup to be won.
Here is the schedule.
The Schedule
February 13 – Event #1: $10K No Limit Hold'em
February 14 – Event #2: $10K Pot Limit Omaha
February 15 – Event #3: $10K No Limit Hold'em
February 16 – Event #4: $10K Short Deck Hold'em
February 17 – Event #5: $25K No Limit Hold'em
February 18 – Event #6: $25K Pot Limit Omaha
February 19 – Event #7: $25K No Limit Hold'em
February 20 – Event #8: $25K Short Deck Hold'em
February 21 – Event #9: $50K No Limit Hold'em
February 22 – Event #10: $100K No Limit Hold'em Main Event
And a 2018 US Poker Open refresher.
2018 US Poker Open Results
Event #1: $10,500 No-Limit Hold'em – Justin Bonomo ($190,400)
Event #2: $10,500 Pot-Limit Omaha – Mike Gorodinsky ($179,200)
Event #3: $26,000 No-Limit Hold'em – Stephen Chidwick ($374,000)
Event #4: $26,000 Mixed Game Championship – Stephen Chidwick ($382,500)
Event #5: $10,500 No-Limit Hold'em – Ben Tollerene ($187,600)
Event #6: $26,000 No-Limit Hold'em – Ben Pollak ($416,500)
Event #7: $26,000 No-Limit Hold'em – David Peters ($400,000)
Event #8: $50,000 No-Limit Hold'em Main Event – Keith Tilston ($660,000)
Final Standings
1. Stephen Chidwick – 5 cashes, 2 titles, and $1,256,600 in earnings.
2. Keith Tilston – 4 cashes, 1 title and $1,047,100 in earnings
3. Jake Schindler – 4 cashes and $693,400 in earnings
4. Daniel Negreanu – 5 cashes and $621,500 in earnings
5. Ben Pollak – 3 cashes, 1 title and $554,600 in earnings