Another round-up from the World Series of Poker focusing on Longshen Tan's impressive performance in Event #66: $1,500 No-Limit Hold'em earning him his first bracelet. 
The first thing I killed was Virginia Woolf's moth. As the Executioner caught the little bugger in flight, there was a brief blue spark, and when I looked the little brown corpse had stuck rigidly on the metal strings.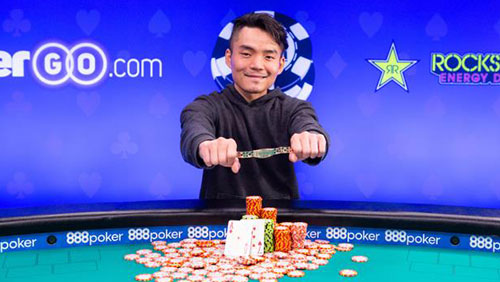 Then in flew a Bluebottle.
It was a big bastard.
I was naked, running around my daughter's bedroom, swinging this electrified tennis bat, afraid I might electrocute my crown jewels. If a teeny-weeny moth created a blue spark that scared the crap out of me, what about this big fat eating, shitting and puking thing?
Maybe it was the vegan in me, but I couldn't do it.
I opened the window, politely asked him to leave, and out he buzzed.
Longshen Tan is not as civilised.
The Event #66: $1,500 No-Limit Hold'em executioner doesn't kill moths, mosquitos and big fat bluebottles. He kills fish, and he doesn't provide windows of opportunity.
Longshen Tan wins Event #66: $1,500 No-Limit Hold'em.
Event #66 was a safety net for those about to leap off casino rooftops after failing to win $8.8m in the Main Event. 1,351 entrants showed the organisers that it was a sweet switch of lineups.
Day 1 ended with 227 players writing a letter to the Poker Gods asking them for this time to be their one time. At the end of Day 2, that field had condensed to a soup-base like 26.
Only one of them had ever won a bracelet, Timur Margolin, but there were some stellar names with enough puff to overcome every hurdle in the home stretch with names like Shyam Srinivasan, Justin Zaki, Michael Wasserman, Rex Clinkscales and Daniel Weinman blowing steam out of nostrils.
And the man leading the way was the executioner, Longshen Tan.
What a wonderful name.
It runs off your tongue in an almost regal way.
Longshen.
I can't stop saying it.
By the time the action had entered the final table, I didn't know any of them, with all those prementioned stars of the game dimming before the end zone came into view.
It was a final table that Tan dominated from start to finish despite only eliminating two players at the final table. And he began heads-up against one of them, Lanny Levine, with a 6.2m v 4m chip lead.
Levine began brightly, catching Tan up, but then Tan won six hands in a row, and you began to see the confidence drain from the face of Levine.
Finally, Tan raised to 200,000 from the button and Levine made the call. The dealer fanned the Qs9h7c on the flop, and both players checked. The turn was the As, and Levine check-called a 175,000 Tan bet. The river card was the 7d; Levine changed the betting order when he thrust 400,000 onto the felt, Tan raised to 1.4m, Levine moved all-in for 2.9m, and Tan called.
Levine showed T7s for trip sevens, and Tan showed A7o for the boat.
And that, ladies and gentlemen, is what you call a cooler.
Executioner or no executioner.
Initially, from China, Tan now lives in Las Vegas where he works as a Real Estate Agent, playing poker in his spare time. He has earned more than $790,000 in live tournaments, with over half a million collected this year alone. His bracelet win was the tenth tournament win of his career, showing an incredible ability to close out tournaments.
It's been a good few months for Tan as he finished 3/2779 in the $600 Mid-States Poker Tour (MSPT) Main Event at the Venetian recently for a personal best score of $102,560.
Final Table Results
1. Longsheng Tan – $323,472
2. Lanny Levine – $199,862
3. Jayaram Kovoorchathoth – $142,785
4. Trey Brabham – $102,212
5. Adam Laskey – $75,497
6. Stephen Bierman – $55,892
7. John Pannucci – $41,884
8. Georgiios Tavoularis – $31,775
9. Jason Paradis – $24,409
203 people made enough money to buy some fuck me shoes including online legend Shyam Srinivasan (10th), the former World Poker Tour (WPT) Tournament of Champions winner, Daniel Weinman (23rd), and Winamax Ambassador Gaelle Baumann (30th).