Another round-up from the World Series of Poker, focusing on Jeremy Perrin's incredible victory in the $365 buy-in GIANT No-Limit Hold'em, only his fifth score in over a decade.
Some people shed a dry tear over the World Series of Poker's (WSOP) decision to lower the price point of a bracelet event to $365, but to most of us mere mortals, who clean drains, serve poison or wash dishes, that's still one hell of an excuse you have to sell to your better half.
And, come on, let's be honest, who's lucky enough to get through the landmines without whipping $365's out of their bank account quicker than an ornithologist whips out his binoculars to catch a glimpse of a Hawaiian Crow.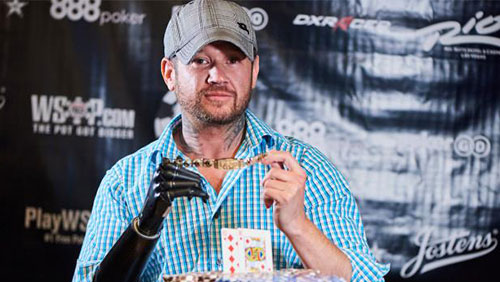 Nah, this isn't a $365 buy-in event.
It's a recreational player car crash.
If someone within WSOP Towers believed putting on Day 1's on consecutive weekends would enable more recreational players to float down to the deep end, they are a genius.
There were five starting flights.
Day 1A – 1,289 entrants, 80 survived.
Day 1B – 969 entrants, 49 survived.
Day 1C – 1,148 entrants, 55 survived.
Day 1D – 1,167 entrants, 63 survived.
Day 1E – 4,347 entrants, 280 survived.
Total – 8,920.
527 began a Day 2 led by the Brazilian Renato Kaneoya.
Kaneoya would make the final table, as would the Day 1E chip leader, Alexander Lakhov.
I don't know much about Lakhov, other than his penchant for teeny-weeny man bags, but I know he finds the later stages of major tournaments with a higher frequency than plastic bags find their way into the bellies of whales.
The only other major tournament winner to make the final nine was the former WSOP bracelet winner, Dany Fuhs, who took down a $5,000 Omaha Hi-Lo event in 2013 for $277,519
, but he would be the first man to miss the better part of the final table, after a painful exit. Luis Vazquez was the man holding the candlestick in the library when his KQ came from behind to beat AK after a queen popped up on the flop, all-in pre-flop.
That hand set the tone, as this jukebox contained more bad beats than a Mel Gibson movie about Christ.
Jeremy Perrin and Lawrence Chan doubled-teamed Lakhov; Perrin winning a race: JJ>AQ, and Chan flopping a boat to come from behind: 88>AA.
Then Matthew Smith hit the rail courtesy of a shove from Kaneoya. Smith held the lead pre-flop with AKs, but the Brazilian, holding Q8o, flopped an eight to turn the tide.
Chan followed in seventh when his pocket sixes lost a race against the KQ of Kevin Rines. A king on the flop making an exit all the more painful. However, Rines was next out in a foul set of circumstances after his pocket jacks failed to beat Lakhov's pocket sixes all-in pre-flop, and then Lakhov eliminated him: trash hand v trash hand not long after.
The Russian couldn't build on that momentum and was out in fifth when his A6s ran into the dominating AJs of Vazquez. It was off to the cash desk to find out the bricks wouldn't fit in his little bag.
Then Svetlozar Nestorov cracked the kings of Vazquez with AQ to double up. Perrin doubled through Nestorov A5o v AQo when a five arrived on the turn. Then Nestorov took a big lead when he sent Kaneoya packing 88>AT. Kaneoya flopped top two pairs, but Nestorov rivered an eight for the set.
Perrin doubled through Nestorov AK>T9o, and then Vazquez doubled through Perrin KQ>AJ. Perrin again got lucky when his pocket eights flushed up against the pocket tens of Vazquez. Then he accumulated a 3:1 Chip lead over the Costa Rican after he doubled AA>AK against Nestorov all-in on a flop of Q99.
Nestorov doubled back through Perrin after that heart-attack inducing hand, but it wasn't enough, eventually exiting in third when his A5 lost out to the A8 of Perrin.
Heads-Up 
Perrin entered the heads-up duel with a 189m v 34m chip lead. Vazquez doubled 55>A3, but his puff and wheeze got him nowhere when the pair went for it with the KTs of Perrin beating the pocket fours of the Costa Rican.
Perrin is predominantly an Omaha cash game player and joked (maybe he was serious) that he entered this event believing it was the Pot-Limit Omaha (PLO) GIANT, only recognising his mistake when the dealer just handed him two cards.
Perrin had never won a lump sum of more than $5k playing live tournaments.
It was his fifth cash since 2007. 
Final Table Results
1. Jeremy Perrin – $250,966
2. Luis Vazquez – $155,478
3. Svetlozar Nestorov – $118,444
4. Renato Kaneoya – $90,599
5. Alexander Lakhov – $69,571
6. Kevin Rines – $53,751
7. Lawrence Chan – $41,953
8. Matthew Smith – $32,433
9. Daniel Fuhs – $25,319
1,268 players earned enough to buy a crowing rooster including bracelet winners Gregory Kolo (12th), Robert Nehorayan (85th) and Arkadiy Tsinis (114th).