Another round-up from the World Series of Poker this time focusing on bracelet wins for Yueqi Zhu and Yaniv Birman, and a little piece of history for the Bonyadi poker family.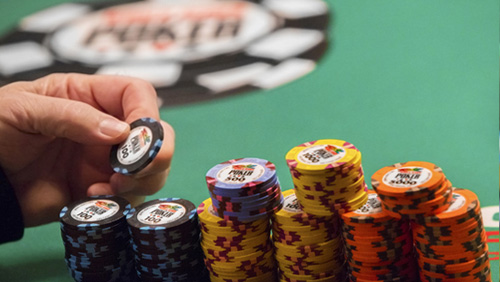 I was fortunate to be raised by parents who felt it was important to win.
"It's the taking part that counts."
What nonsense.
Take Yueqi Zhu as an example. Zhu has been turning up at the World Series of Poker (WSOP) for 12-years trying to win a bracelet. 70 cashes of which six came in the end zone, and still he didn't have a bracelet until yesterday.
Do you think Zhu was happy?
If so, then he is too sweet and should stop playing poker to concentrate on making finger shadow puppets on the walls of children's playgrounds.
Fortunately, he cracked it.
Zhu topped a field of 773 entrants to win Event #35 $1,500 Mixed Pot Limit Omaha Hi-Lo/Big O. The event was a long, drawn-out affair, which required an unscheduled fourth day to sort things out.
Only three people came back for that impromptu performance, and Zhu had 80% of the chips in play. Carol Fuchs won her bracelet in 2015, but she wasn't about to make it two when she fell into the rail, hair tussled, in third.
Zhu took a 10:1 chip lead into heads-up against Gabriel Ramos, and that's rather a big axe to grind. The whole affair lasted as long as a couple of teenagers playing doctors and nurses, and Zhu had finally won a tournament, his first since he started racking up scores in 1998. 
Final Table Results
1. Yueqi Zhu – $211,781
2. Gabriel Ramos – $130,850
3. Carol Fuchs – $89,488
4. Matthew Gregoire – $62,226
5. Jon Turner – $44,007
6. Peter Neff – $31,662
7. Ryan Hughes – $23,182
116 people with warts and all made some money in this one including the four-time bracelet winner, Robert Mizrachi (14th), bracelet winner Allyn Shulman (26th) and the leading man himself Phil Hellmuth (35th).
Farhintaj Bonyadi Wins Event #36: $1,000 Super Seniors 
Another event that couldn't finish on time was Event #36: $1,000 Super Seniors, but it was worth the wait for Farhintaj Bonyadi.
If you think that name is familiar, it is. Farhintaj's son, Farzad is a three-time WSOP bracelet winner with over $4.1m in live tournament earnings to his name.
The pair becomes the first mother and son partnership to win WSOP bracelets, and Farhintaj's sliver of gold is the first to find a female wrist this summer.
The event attracted 2,191 entrants, and Farhintaj beat Robert Beach, heads-up, after coming back from a 4.5-1 chip deficit.
"She did it all on her own," Farzard told PokerNews reporters while celebrating his mother's win.
I bet she didn't raise Farzad to believe that just taking part was good enough. 
Final Table Results
1. Farhintaj Bonyadi – $311,451
2. Robert Beach – $192,397
3. Paul W Lee – $140,273
4. Linda Iwaniak – $103,215
5. Russell Sutton – $76,655
6. Alan Denkenson – $57,465
7. Charles Thompson – $43,489
8. Neil Henley – $33,227
9. Bill Fogel – $25,633
329 experienced citizens added a few coins to retirement funds in this one including the two-time bracelet winner Steve Zolotow (10th) and bracelet winners Michael Moore (125th)and Konstantin Puchkov (180th).
Yaniv Birman Wins Event #38: $10,000 Seven Card Stud Championship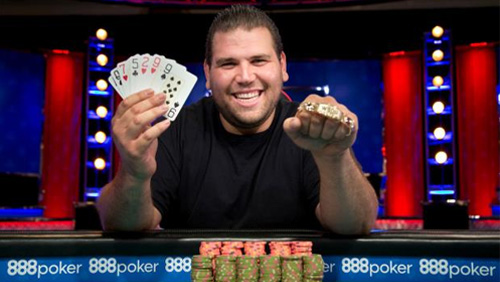 Yaniv Birman plays poker for fun.
"I got here Monday, and this was the first tournament I signed up for," Birman told PokerNews after taking down Event #38: $10,000 Seven Card Stud Championship. "I play one or twice a year."
The businessman who prefers high stakes cash games defeated a problematic final table that housed four WSOP bracelet winners with six between them including Jesse Martin who was making his sixth cash of the summer, finished second a week after finishing third in the baby Stud.
"The cards were running my way," said Birman who led the entire day despite not eliminating a single player until the game entered three-handed play.
The event attracted a meagre 83 entrants, and 13 players received payback including Todd Brunson who finished tenth. 
Final Table Results
1. Yaniv Birman – $236,238
2. Jesse Martin – $146,006
3. Ben Yu – $99,340
4. Lee Salem – $69,928
5. Matt Grapenthien – $50,669
6. James Obst – $37,904
7. Joseph Cappello – $29,306
8. Lars Gronning – $23,443