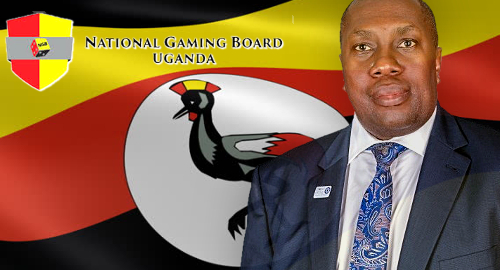 Uganda's gamblers will soon have to register in order to indulge their gambling appetites, according to the local regulator.
This week, Edgar Agaba, CEO of the National Gambling Board Uganda (NGBU), announced that the regulator was developing a central monitoring system (CMS) to track gamblers' activity and ensure underage citizens are kept out of gambling venues.
Local media quoted Agaba (pictured) saying the CMS will be connected with Uganda's Financial Intelligence Authority to guard against money launderers. The CMS, which Agaba hopes to have in place by December, will also link to the National Identification and Registration Authority, utilizing biometric and personal information to ensure gamblers are who they say they are.
Ugaba believes enhanced monitoring would lead to increased government tax revenue. The government's share of gaming revenue hit UGX37b (US$9.8m) in the 2016-17 fiscal year and this figure is expected to hit UGX42b in 2017-18 and UGX50b by 2019-20.
Agaba didn't specify how small-scale retail operators would be able to afford installing the necessary technology in their venues, but perhaps that's the point. The NGBU said there were 736 gaming venues in the capital Kampala, of which only 583 had been approved for licensing. The NGBU closed 99 illegal or noncompliant venues in the first half of 2017 alone.
The customer tracking will presumably be more applicable to Uganda's online gambling operators. According to the NGBU's latest data, the county has issued 26 online sports betting licenses and five online casino permits. Kenyan operator SportPesa has been flirting with joining this club, but isn't wild about Uganda's online gambling tax rates.
Uganda's online operators pay 20% tax on their online revenue, while punters face a 15% tax on winnings. (A similar setup was just rejected by Kenyan legislators.) This is on top of corporate taxes and the high fees operators pay to Ugandan telecom operators for mobile banking transactions.
Paul Ssozi, general manager of Ugandan-licensed online betting operator Betyetu, recently told the Daily Monitor that the cost of bulk text messaging was higher than in surrounding countries, and if telecoms were to lower their rates, betting operators would have more money to devote to funding local sports organizations.