Three stories from the hallowed halls of PokerStars including a fresh approach to the Platinum Pass rollout involving Team Pros, news of Portugal joining the European shared liquidity, and the cessation of real money games in Hong Kong and South Africa.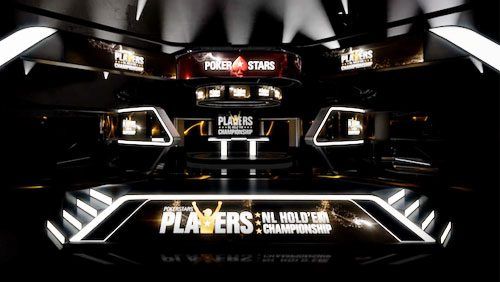 Ok, it's 6:25 am, my left eye is welded shut with sleep, I have just carted my daughter off to my wife's room for booby breakfast, and I have hardly slept a wink.
So it could be that.
Or, maybe I'm just not down with the cool kids these days?
From the moment I saw my boy breaking ribs while watching Pewdie Pie playing some 1970s video game online while acting like a complete cock, I have never understood the 'streaming' phenomenon.
Ninja gets paid $500,000 per month to play a video game while someone watches him?
Envy?
I don't know what it is, but after reading the press release for the latest PokerStars Player's No-Limit Hold'em Championship Challenge (PSPC) Platinum Pass promotion, I am a little stunned.
The Birth of the PSPC and MILLION World 
As 2017 drew to a close, PokerStars, under severe pressure from the partypoker MILLIONS brand, announced plans to host the most significant $25,000 buy-in event of all time.
The PSPC would take place ahead of the 2019 PokerStars' Caribbean Adventure (PCA) at the Atlantis Resort in the Bahamas, and Stars would send 300 players to the event in a variety of different ways all related to winning a $30,000 Platinum Pass (including seat, accommodation and travelling expenses). Oh, and they are also giving the winner an additional $1m on top of the millions they will already win.
It's going to be huge.
Then in April, partypoker LIVE bit back when they announced a $25k Bahamanian event of their own called MILLIONS World with a $10m Guarantee.
The pressure is on.
So far, PokerStars has handed out 108 Platinum Passes worth more than $3m. Players have won these through a variety of online and live promotions, and today, I can announce that Stars have put the creative control of Platinum Pass distribution into the hands of the PokerStars Ambassadors, for a limited time only.
And this is where I sort of lose the plot.
PokerStars Hand The Creativity Over to the Pros
David Carrion, Director of Poker Marketing, said he had given his ambassadors 'free rein to get as imaginative as they wanted' to show the 'fun ideas they could bring to the table.'
I think that could have been a mistake.
It's unknown how many ambassadors will provide a tributary into the PSPC waters for their fans, but PokerStars has released the details of the first three, and I find them more confusing than exciting.
Felix Schneiders 
BroBattle 
For the uneducated (me), it seems that Felix Schneiders streams alongside his two buddies (or Pokerbros as he calls them) Murat Tülek and Niklas Ehrenholz. The trio has asked their respective communities to send a 'creative application' to their respective community leaders, and they will hand pick players to compete in a series of live Sit & Go's held at Felix's streaming studios in Cologne, Germany.
This is where I get a little lost.
I assume the BroBattle in Cologne is just a way to reward their communities with a meet and greet, as there doesn't seem to be any prize at stake. The critical aspect of this challenge is that all members of the Bro Battle will be picked to compete in an Online Bro Battle Finale Sep 2, where the winner picks up a Platinum Pass.
Only players from Germany, Austria and Switzerland can compete, and you have to pay for your travel to Cologne.
My Verdict = Thumbs Down.
Fintan Hand and Ben Spragg 
I imagine you have to (a) be part of the streaming community, and (b) watched Fintan Hand's and Ben Spraggy's Twitch show to appreciate what they are trying to achieve here.
Each day between 28 May and 3 June, the duo will hand out tasks to their community, with the winners making their way into an online tournament on July 29 where the winner earns a Platinum Pass.
Creativity?
I found the whole thing so utterly ridiculous I can't even begin to explain some of the challenges, so I will provide the link so you can figure it out for yourself.
My Verdict = Thumbs Down.
Andre Akkari 
From BSOP to PSPC 
For his challenge, the World Series of Poker (WSOP) bracelet holder has gone back to his roots and tied his Platinum Pass giveaway with the Brazilain Series of Poker (BSOP).
Akkari will hold three live Sit & Go's at three BSOP events where he will select ITM players at random to compete with the winner sent to the BSOP Millions in Sao Paulo on Dec 6 to fight in the final Sit & Go with the chance to win a Platinum Pass.
Andre can also choose two wild cards to compete, and given that he likes to play poker in Neymar's home, fingers crossed.
My Verdict = Thumbs Up.
Summary 
When I first heard of the idea for PokerStars Ambassadors to provide creative ways to give away Platinum Passes I thought it was a great idea. Now, I'm on the fence.
I am acutely aware that my lack of connection with Schneiders, Hand and Spraggy's thinking may cloud my judgment. There is likely a gazillion streamers out there who think that entering a Bromance or photoshopping their face next to Hand and Spraggy is fun, but I don't get it.
Let's hope the rest of the gang come up with something more related to poker.
Portugal Joins France and Spain in Euro Liquidity Pool 
Players from Portugal will get the chance to compete for a Platinum Pass or two now the regional PokerStars online poker room is finally sharing liquidity with Spain and France.
PokerStars will celebrate Portugal's inclusion with a €5m Guaranteed Trio Series. The 78-event series takes place June 3-13 culminating in a €250 Main Event with a €500,000 Guarantee.
PokerStars' online poker rooms in France and Spain joined forces in January. The first joint online series FRESH generated more than €6m in prize money, and they followed that up with a Spring Championship of Online Poker (SCOOP) offering that beat their €10m Guarantee.
Next up, Italy?
Wot No Hong Kong or South Africa? 
According to Inside Asia Gaming, as one country gets some good PokerStars news, another gets a shafting.
It seems The Stars Group has sent an email to players living in Hong Kong informing them that real money games end on Wednesday, May 23. Here is where PokerStars let themselves down in my opinion.
One one hand you have the likes of Akkari, Schneider, Hand and Spraggy, flying the PokerStars flag, creating a community of real people who will love the PokerStars brand. And then, you have an email that goes out to people telling them that their favourite hobby is no longer available with no reason why.
According to Inside Asia Gaming, the email reads:
"The Stars Group frequently reviews commercial and regulatory developments around the world."
That's not how you speak to customers IF you want to build brand loyalty.
The news comes in the wake of the Chinese Ministry of Culture banning social poker apps on June 1 after some of them were linked to illegal underground live games involving execs from Ourgame International Holding (the owners of the WPT).
I have also heard on the grapevine that the same has happened in South Africa. PokerStars have not reacted to this rumour at the time of print.