MACAU, China – Aristocrat continues to strive to lead the gaming industry in creating combinations of innovative cabinets and games that really entertain. At G2E Asia 2018, Aristocrat's stand will feature themed destination areas, specifically designed to showcase the company's new games and cabinets, and allow attendees to interact with the products in a meaningful way.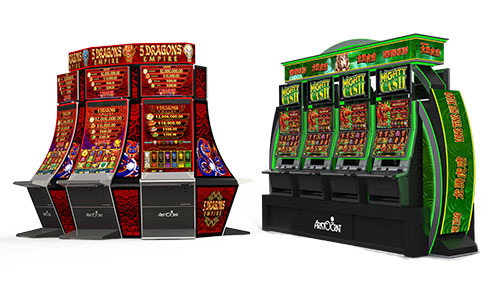 "We are honored to welcome our valued customers and friends from Macau, across Asia Pacific and around the world to G2E Asia. Destination areas on the Aristocrat stand will help attendees experience all of the innovation we have put inside our games and cabinets, to help our customers give their patrons great gaming experiences every day," said Aristocrat APAC Managing Director Chris Rowe.
Aristocrat's stand design at G2E Asia invokes an actual casino floor, with dedicated areas including:
• 5 Dragons zone;
• a Mass Market Gaming area;
• a High Limit Room and
• an Innovation Room.
5 Dragons:
5 Dragons™ is Aristocrat's biggest Asian brand and one of the best loved and recognized slot brands in the world. Attendees will experience a joyfully themed 5 Dragons area that shows how operators can place these products on the floor to create gravity around the brand. This area features Aristocrat's latest 5 Dragons games:
• 5 Dragons Grand™ brings all the excitement of 5 Dragons to the unique experience of Aristocrat's Arc Double™ cabinet. This new version features an enhanced reel layout with increased ways to win, jackpot multipliers, and a fun wheel feature with free games and
jackpots.
• 5 Dragons Empire™ is a four-level Hyperlink® jackpot game that entertains players with an innovative game mechanic, multipliers, bonus prizes, and the chance to win Hyperlink jackpots. 5 Dragons Empire™ Link will appear on Aristocrat's Arc Single™ with three titles: 5 Dragons™, 5 Dragons Deluxe™ and 5 Dragons Rapid™ which is the latest addition to the family.
• We will also feature our most popular 5 Dragons titles under the latest 5 Dragons Rapid™ and 5 Dragons Gold Mystery Links.
Lightning Link:
• Aristocrat's global slot sensation Lightning Link™ is expanding at G2E Asia with new games that have been customized to the Asia-Pacific market, complete with tailored graphics, jackpots and bet options.
• The fourth title of our new hit Link – Emperors Treasures™ – will be on display to support our first three titles Happy Lantern™, Dragon Riches™ and Eyes of Fortune™.
Mighty Cash:
• Aristocrat's "Hold & Spin" feature is popular with players, and the company has grown the segment with its latest title, Long Teng Hu Xiao – Mighty Cash™. This link offers ultimate flexibility with both link jackpots and game configurability.
• This new Reel Power™ game is an evolution of Aristocrat's popular Hold & Spin™ mechanic and has a highly Asian-centric theme, player-selectable multi-denomination configurability, and the popular what-you-see-is-what-you-get style of game play.
• Additionally, Aristocrat will show Mighty Cash, Nuxia™ – Red Warriors™ and Green Warriors™.
Games of Fortune:
• Aristocrat continues to innovate for players who enjoy table games, with the added fun of a slot environment.
• In this segment, attendees will enjoy learning more about Games of Fortune™; Multiline Baccarat™, Baccarat 88™, Baccarat Streak™ and Baccarat Zhuan Zuana Fa™ which are played on Aristocrat's exciting Arc™ cabinet.
Fa Fa Long:
• Aristocrat is also extending its line of standalone games for players who enjoy a higher volatility gaming experience.
• Situated in the High Limit area on the booth, Fa Fa Long™ is based on a proven and popular repeat-win math model. Its simple mechanics are paired with intuitive line displays, which offer players a low line math model. While popular in numerous markets around the world, this style of game will be brand new to Asia and has potential to redefine high limit slots.
Innovation Room:
• We won't say a whole lot about this space – you'll have to stop by and see it for yourself!
• In the Innovation Room, we will debut several new concepts for the Asian market, spanning both games and cabinets. It's all about what's inside.
We look forward to welcoming you at booth #629 at G2E Asia, or contact us online at www.aristocrat.com.
About Aristocrat
Aristocrat Leisure Limited is an ASX50 listed company and one of the world's leading providers of gaming solutions. We're licensed in 240 gaming jurisdictions and operate in 90 countries around the world, with a team of over 5000 employees who deliver outstanding results by pushing the boundaries of innovation, creativity and technology. Since our humble beginnings in 1953, we've been driven by a desire to create the world's greatest gaming experience, every day. We offer a diverse range of products and services, including electronic gaming machines, social gaming and casino management systems. But despite our global presence and exponential growth, we remain an ideas company at heart, committed to entertaining the world one game at a time. For further information, visit the company's website at https://www.aristocrat.com/
Contact: Miguel Choi  Regional Marketing Manager | Asia-Pacific Aristocrat (Macau) Pty Ltd.