Art Papazyan has had a great year. He's picked up several key wins, like the WPT Legends of Poker and WPT Maryland, giving him a comfortable lead in the WPT Player of the Year (POY) race. There are only two events left in the season that could see someone come up from behind, but only if they bring their A-game.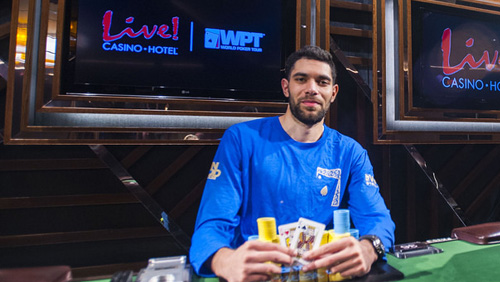 Papazyan has a total of 2,450 points. He earned 1,200 for each of his wins and an additional 50 points for cashing at the WPT Seminole Hard Rock Poker Showdown earlier this month. Tournaments with prize pools of $4 million or more offer 1,400 POY points to the top winner, so the remaining two events will need to be monsters if someone is going to challenge his position.
The two events are the WPT Bellagio Elite Poker Championship and the Bobby Baldwin Classic, both in Las Vegas. Following the top points award, second place will award 1,200, third awards 1,100 and fourth awards 1,000. The rest of the top ten places continue the same structure, offering 100 points less per place.
Eric Afriat is currently the closest to Papazyan with 1,750 points—certainly within reach. He won the WPT Borgata Winter Open in January of this year and placed second at a NLHE tournament at the partypoker Caribbean Poker Party in November 2017. He's no stranger to tough action at the felt, and has several final-table appearances over the past several years. He's racked up over $2.5 million in live action since his first tournament win in 2008.
Tied in points with Afriat is Derek Wolters. He has placed third at several key events in his career, including the LA Poker Classic and the WPT Montreal tournaments. He has already announced that he will be in Vegas for the remaining two tournaments and is a strong contender for both. He has a knack for coming up from behind to reach the final table, and could use this in Vegas. He's a veteran player who has been at the felt for almost a decade, earning just over $1.2 million.
Not too far behind Wolters is Joe McKeehen, who has had a nice little run lately. He has 1,650 points and had five cashes in season 16 of the WSOP. He is also the 2015 WSOP Main Event winner, but has already stated that he doesn't expect to participate in the entire Elite Poker Championship. His most recent WPT participation was at a NLHE tournament at the WPT Borgata Winter Poker Open, where he finished in fourth place. Since 2010, McKeehen has accumulated over $14.5 million at the tables.
The last two tournaments should be impressive, with some great talent descending on Vegas to see the action. The POY race could prove to be a photo-finish race if Papazyan sees some real competition.