• GalaBingo.com's live 'Hatch of the Day' lottery game ran for the second year running this Easter Monday
• Gemma Sanders won £350 of Thomas Cook holiday vouchers and a Hotel Chocolat Family Hamper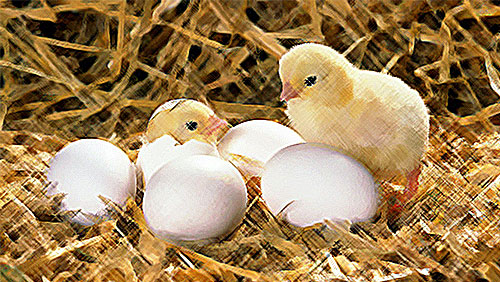 This Easter, GalaBingo.com carried out their second ever 'Hatch of the Day' – a live streamed lottery game featuring hatching chicken eggs.
With support and guidance from a charity farm with more than 25 years' experience in animal care and welfare, GalaBingo.com arranged for 49 fertilised chicken eggs to be placed into a special, temperature-controlled incubator for 21 days, with the eggs expected to hatch on Easter Monday (2nd April). From 22nd March – 1st April, participants could enter via a competition entry form on the GalaBingo.com Facebook page, by guessing which six numbers would hatch first. The prize was £350 of Thomas Cook holiday vouchers, and a Hotel Chocolat Family Hamper.
The hatching process was broadcast live via the GalaBingo.com Facebook page from 10am – 5pm on Monday 2nd April. Throughout the day, it reached 71.1 Facebook users, and received 4,700 post clicks and 6,255 engagements.
Gemma Sanders from Cheshire was randomly selected to be the winner, after no entrants managed to correctly guess six chicks to hatch within the live stream time period. Commenting on her win, she said: "I heard about the offer through Facebook, but didn't think I'd win! It was a lovely surprise, and definitely brightened up my Monday. I'm going to use the holiday vouchers for a nice British holiday with my husband, either a caravan break or an overnight city stay."
After hatching, all the chicks were taken into the care of the 24-acre farm.
Karina Adrian, PR & Brand Partnership Manager at GalaBingo.com, said: "After the success of last year's Hatch of the Day game, we knew we wanted to bring it back – watching cute chicks hatch is the ultimate way to spend Easter Monday. We'll definitely be doing Hatch of the Day three next year!"
Media Enquiries
For more information or images, please contact India Benjamin on [email protected] or Charly Bowen on [email protected]
About Gala Bingo
GalaBingo.com – The UK's No.1 Bingo Site
With over 600 online bingo jackpots daily, more than any other UK bingo website, and over £4 million paid out to members every day, Gala Bingo is the UK's No 1 online Bingo site.
GalaBingo.com provides its members with over 400 of the newest slots and classic table games as well as on-the-go online bingo entertainment on mobile and tablet.
Gala Bingo is also committed to responsible gaming online with voluntary deposit limits, self-exclusion, time out options, account closure and a variety information to help players.
Gala Bingo is a reliable place to play online featuring a safe and easy cashier, fast cash-outs, a VIP Loyalty scheme and second to none 24/7 customer support.