• Stride data available for the first time from six ARC racecourses on www.attheraces.com
• All sectional timing and in-race data from every All-Weather Championship race on ARC's four all-weather racecourses also available
In a ground-breaking development in British Racing, the strides lengths of horses racing at six Arena Racing Company ("ARC") racecourse is now available At The Races ("ATR") website – www.attheraces.com.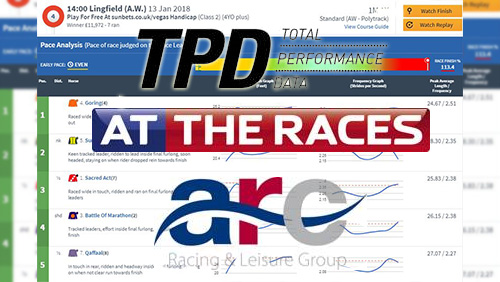 The development is the first time that valuable stride information – comprising metrics around Stride Length and Frequency – has been published on this scale, with data being collected for every runner, by every furlong in all races run on ARC all-weather tracks – Lingfield Park, Newcastle, Southwell and Wolverhampton, as well as the flat at Doncaster and Royal Windsor when their seasons commence later in 2018.
The work is the latest development that uses technology provided by Total Performance Data ("TPD") which has worked in partnership with ARC and ATR and will enable horsemen and racing fans to gain fresh insight into a horse's performance. The data is transmitted every second by the sensor in the saddle cloth before being averaged over a furlong by ATR.
The new information can be accessed by clicking/tapping on the 'Stride Data' tab at the top of the Result Page. Information contained within the Stride Data tab includes charts indicating Stride Length and Frequency on a per furlong basis, plus 'Peak Average' figures for both metrics.
The Peak Average figure is calculated by taking the highest individual figure and combining it with any other figures within 4%. Doing this automatically excludes the effect of 'speeding up' at the start, severe interference in the race, and any dramatic 'easing up' at the finish.
Peak Average figures for Stride Length and Frequency are also included in the form pop-up so website viewers can quickly compare the same horse's performances in different races.
The data is available for most all-weather fixtures at Lingfield Park, Newcastle, Southwell and Wolverhampton since early December 2017, and will be also published for turf races at Doncaster, Lingfield Park and Royal Windsor from the start of the 2018 flat season.
Since October 2016, ATR, via www.attheraces.com, has been providing detailed statistics on race pace, mid-race positioning, energy distribution, and sectional splits. From November 2017 onwards, ATR TV viewers have also been able to see onscreen sectional timing information for races from Wolverhampton, and latterly Lingfield Park and Southwell, with Newcastle to follow shortly.
At The Races' Director of New Media and Innovation, Matthew Taylor, said: "This is another exciting step forward giving fans of the sport new information they have never received before.  We look forward to seeing how this can further enhance the analysis and understanding of how races are won and lost.  In partnership with TPD and ARC we will continue to bring innovative new ways to understand horseracing which can appeal to existing and new fans of the sport."
Total Performance Data's CEO, Will Duff Gordon, said: "Our aim at TPD is to use data to bring horseracing firmly into the modern era. Other sports have worked to provide fans with detailed content and data on all aspects of the action, and the wealth of information available in horseracing means our sport can do exactly the same, if not more. As well as this development, we are working to expand sectional timing and stride data to all ARC racecourses during 2018, and introduce sectional timing to jump racing for the first time."
ARC's Director of External Affairs, Susannah Gill, said, "This is another significant development from the teams at TPD and ATR which has the capacity to provide a fascinating new insight into how races are won and lost.  This will be valuable information for those wanting to understand horses' performances, including those betting on the sport.  ARC's ongoing partnership with TPD and our media partner ATR is breaking new ground on the data we can produce about the sport, and there will be more exciting developments in the months and years ahead."
For further information please contact:
Susannah Gill
Director of External Affairs
Arena Racing Company
Office: 020 7802 5120
Mobile:  07751 870 929
Email: [email protected]
Web: www.arenaracingcompany.co.uk
Full information on Stride Data can be find here.
About ARC:
Arena Racing Company ("ARC") is the largest racecourse operator in the UK. In 2018 ARC Group racecourses will host 522 fixtures with 1.2 million people attending racing at one of ARC's racecourses each year.
ARC is made up of the following sixteen racecourses: Bath, Brighton, Chepstow, Doncaster, Ffos Las, Fontwell Park, Great Yarmouth, Hereford, Lingfield Park, Newcastle, Royal Windsor, Sedgefield, Southwell, Uttoxeter, Wolverhampton and Worcester.
ARC runs four of the six all-weather racecourses in the UK offering three different types of surface for horses to run on: Polytrack at Lingfield Park, fibresand at Southwell Racecourse and tapeta at Newcastle and Wolverhampton Racecourses – the only tapeta racing surfaces in Europe.
In 2013 ARC pioneered the All-Weather Championships which see horses compete throughout the winter for the chance of qualifying for a £1 million Finals Day on Good Friday at Lingfield Park. This initiative is helping raise the profile and prestige of all-weather racing in Great Britain.
ARC hosts racing at all levels of the sport from Class 7 through to Group 1s. Doncaster Racecourse is home to the world's oldest Classic, the St Leger, run each year in September as part of the four-day St Leger Festival. Feature jumps races include the Grade 1 Fighting Fifth Hurdle at Newcastle Racecourse, the Welsh Grand National at Chepstow Racecourse and Midlands Grand National at Uttoxeter Racecourse.
As well as racing, ARC also operates a hotel at Wolverhampton Racecourse, a hotel, spa resort and golf course at Lingfield Park and The Border Minstrel public house at Newcastle Racecourse in the grounds of Gosforth Park. A new hotel at Doncaster Racecourse is under construction and will open in the summer of 2018.
ARC is a significant shareholder in the horseracing TV channel At The Races which is broadcast on the Sky platform to c.14 million homes, and a JV partner with Racing UK in GBI Racing which sells UK and Irish Racing to betting shop operators around the world.
ARC plays a pivotal role in British Racing. It is a shareholder in British Champions Series and Racecourse Data Company; a signatory to a British Horseracing Authority's and Horsemen's Group Prize Money Agreement; and on the boards of the Racecourse Association ("RCA"), Great British Racing ("GBR") and British Champion Series ("BCS").
In 2015 ARC set up The Racing Partnership. This limited company represents the media rights of the 15 ARC owned-racecourses and the 7 independent racecourses Fakenham, Ffos Las, Hexham, Newton Abbot, Plumpton, Ripon and Towcester.
In addition to racecourses ARC owns Newcastle and Sunderland Greyhound Stadia and looks after the media interests of the Greyhound Media Group ("GMG").
ARC employs 650 permanent staff and engages with 3,500 casual staff for racing and events across its racecourses.  Further information about ARC can be found at www.arenaracingcompany.co.uk.
About At The Races:
At The Races is a dedicated horseracing channel broadcasting daily, live action from the UK and Ireland. Domestic distribution of the TV channel extends to over 13 million UK and Irish homes via digital satellite and cable television on the following channels: Sky 415, Virgin 535 and Virgin Ireland 418. The company is majority owned by Sky and operates through a joint venture partnership between Sky and Arena Racing Company.
About Total Performance Data:
Total Performance Data delivers race timing technology and real-time positioning information, deployed around the world.
Using the latest GNSS technology, designed and developed in the high-tech cluster surrounding Cambridge University, TPD's Race Pace positioning data streams live racing calculations to on course and off course audiences.
In race, real time positions are transmitted within fractions of a second; facilitating speed and split time calculations while the race is in progress.
TPD are the exclusive provider of race positioning data from Arena Racing Company in the UK, offering detailed racing data direct to consumers and bookmakers.