Lee Davy talks to Andre Akkari about his role in the Brazilian poker scene, his interest in esports, and his views on the PokerStars Player's No-Limit Hold'em Championships. 
*To download this audio, right click and save link as*
The main stage of the PokerStars Caribbean Adventure (PCA) is impressive. If poker had Seven Wonders, this would be one. And yet, as I look down from the rail, Andre Akkari seems part of the furniture.
The Brazilian star is sitting on the feature table. Jonathan Jaffee joins him. I don't recognise anyone else. A grey shirt covers Akkari's frame. Red shorts brave the breeze of the air conditioning. A pair of specs give him an educated look, a well cared for beard lends a few years of added experience. There is a yawn; a check of his mobile phone, all in a day's work.
A very important looking man sidles alongside me.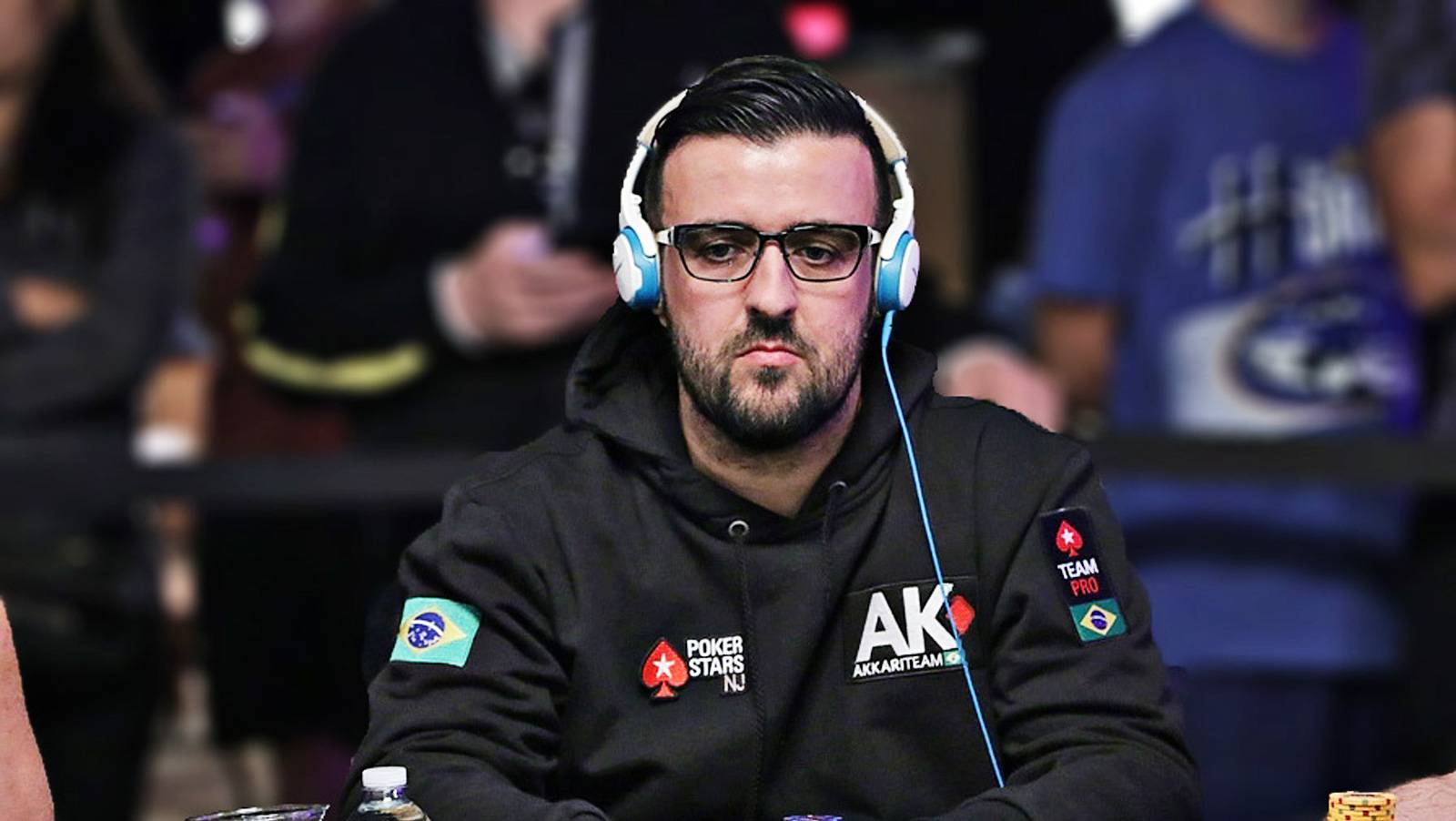 Pointing to Akkari the man says to a lady in his company: "See him?" That's Andre Akkari; a Brazilian guy; really, really famous."
There is a nod of approval.
If there were tumbleweed, it would have rolled.
The table is as quiet as a fallen oak complaining about its once-mighty status.
216.
It was 582.
I leave the rail and find a spot for my chat with the really, really famous guy from Brazil. 
"I don't think I'm a famous person," Akkari tells me. "For me, it's not important. What's important is to have a good life with my friends and family. If I can do more things for other people through fame, then that's ok. 
"When I was younger I was crazy about being a soccer player. Every professional soccer player in Brazil is famous, but I wasn't looking for the fame. I was looking to shine in a sport and poker gave me the opportunity to be around competition, sports and adrenaline. Poker is growing like a fever in Brazil. Whoever represents poker in Brazil gets some fame. It wasn't my plan, but as they consider poker a sport in Brazil, it's come." 
I'm talking to Akkari in the same week PokerStars decided against extending the contract of Felipe Ramos. A strange decision given the poker fever that's currently sweeping Brazil. But it does show the faith PokerStars has in their man Akkari.
"At some point in time, PokerStars must have been looking for people who were winning tournaments," said Akkari. "I don't think that's the right approach, today. To be an ambassador, winning tournaments is helpful, but you have to give much more. You have to promote the game, bring new players to the game and do this on a daily basis. That's what I have been doing for 11-years. People can see I am not fake. I am not marketing. I love this game. 
"A decade ago, poker didn't have a good image in Brazil. In that time, all poker rooms – not just PokerStars – they have had to give poker a better spirit, and I have been trying to do that. I have been trying to be a nice guy and show people that the poker industry is professional. We have a poker class in Brazil, every year we bring more to poker. I think Pokerstars sees and respects that." 
Online poker rooms are hiring more tribal leaders. Social media enabled poker players to start leading from the front. Twitch and YouTube have enhanced the potential. Akkari grows his tribe through the creation of one the largest training schools in the world.
"The name is HQ Akkari Team. We've done a live poker class every month for 40-people for the past five years," Akkari tells me. "It always sells out. It's a weekend in a hotel in Sao Paulo, and people come from Portugal, US, Dubai – we have students from all around the world. I believe we have the biggest poker class in the world. We've also recently released an online class, and it's exploding." 
Akkari is the front man.
I wonder who helps him behind the scenes? 
"I have a team, and I'm very proud of them," says Akkari. "We have a lot of people working at HQ Akkari Team without whom it wouldn't work. We have Leonardo Bueno; he is a pro cash game player. Hugo Marcelo is a pro MTT player. 
And Akkari isn't stopping with poker. A few weeks ago, I learned via social media that the PokerStars team Pro was considering launching an esports training class. After a fan breaks into our conversation to tell me how magnificent Akkari is, I ask him about his interest in esports.
"Two years ago, I was introduced to esports and got crazy about it," says Akkari. "I'm crazy about games. I am trying to do what we've done in Brazil for poker, but as a mirror for esports. My partner and I have invested in a League of Legends (LOL) team in Brazil called CNB. We bought a piece with Ronaldo. They are the biggest LOL team in Brazil. Three months ago we invested in a CS: GO team called FURIA. 
"We also opened an esports market agency in Brazil, and that's doing well. We have some big clients: Vivo, the biggest cell phone company in Brazil, Red Bull and a few others. I am just investing and learning more but I maintain my focus on poker, and that's the thing I bring to PokerStars. I'm not just a player. I'm a package." 
The esports industry has done a great job of attracting mainstream sponsors. Poker, not so much. The big money brands view poker in the same way a young man greets his first sight of smegma. Akkari has managed to change this view in Brazil by growing relationships with premier sponsors like Puma.
How?
"In the past, when companies have a bad image of poker in Brazil, it's because of a lack of information," says Akkari. "What I've been doing in Brazil is passing on information. In Brazil, we wouldn't be allowed to play poker if we did it differently. We don't have casinos. We have to fight for poker.  
"We spread our information, and it's reached all of our relationships – soccer players, celebrities, and when the network connects you meet someone from Puma, Nike, Red Bull and they want to know more. Take the CEO of Red Bull in Brazil; he will know more about poker than his equivalent in England and Germany. 
"In Brazil, we are a one sport country. 80/90% of Brazilian sport fans love soccer. So since we have 220 million people and they're all fans of Neymar and Ronaldo, and these people say poker is great they will believe that. We just had to make the connection, to help them love the game, and they will promote it naturally because they love to play poker. They feel the same adrenaline. Take Ronaldo; it's hard for him to finish playing soccer. He has a lack of adrenaline and poker brings that to him. His inclusion in poker helps for everything, including getting the attention of the big brands." 
I imagine what the atmosphere would be like if the $25k PokerStars Player's No-Limit Hold'em Championship (PSPC) took place in Brazil. Maybe we need to build the Maracana of poker. 
"It's going to be huge," says Akkari. "We'll have more than 1,000 players. Two years ago we had the biggest $25k in history here, probably 300 players. Now we are going to have another $25k with one million added at the top, and 300+seats given away. We have the chance to make the biggest tournament in the history of poker." 
And if the event pulls in players from Brazil, PokerStars have one man to thank. A really, really, famous guy called Andre Akkari.