The conclusion of our midweek two-parter sees both the blue and red halves of Manchester pick up three points, and Newcastle plummets to a point above the relegation zone with a defeat at home to Everton.
Swansea 0 v 4 Man City 
Manchester City continued their unstoppable title run with their 15th consecutive Premier League victory against hapless Swansea at the Liberty Stadium. The four-nil thrashing means City remain 11-points clear of their nearest rivals Manchester United, who won 1-0 at home to Bournemouth.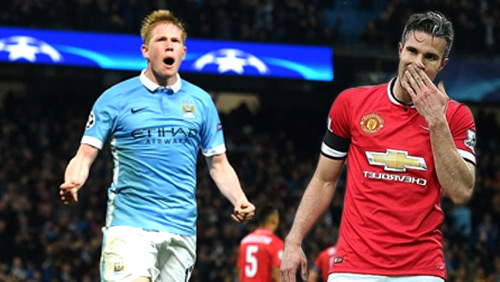 Swansea City's Premier League survival won't hinge on games against the Big Six, but Paul Clement and his board will be concerned that Swansea's sixth defeat in their nine home games means they have the worst home record in the division. In contrast, City has won all nine of their away matches.
The man of the match was David Silva. The loss of hair seems to have given him some added energy. The Spaniard was brilliant, scoring twice. Kevin De Bruyne and Sergio Aguero picked up the other two goals. City had 78% of possession.
Man Utd 1 v 0 Bournemouth 
For once, Jose Mourinho had nothing to complain about as his side were fortunate to take three points at Old Trafford on a wet and windy night against a Bournemouth side who was superior on the night.
It was a tricky tie for United, coming on the back of a rare defeat, and a crucial one at that, against neighbours Man City. But United don't concede many goals at home. In fact, David De Gea has kept ten clean sheets in 17 games, and eight of them have been in front of the home fans.
Bournemouth was brilliant, but Romelu Lukaku rose at the far post to score his ninth goal of the season to give United the lead. The Belgian failed to celebrate, perhaps showing that the pressure of being a big-time Man Utd player may be getting to him.
United only had a few shots on target, but should have won more easily. Anthony Martial missed a sitter from six yards, and Marcus Rashford nearly knocked the crossbar into another dimension with a fierce drive. At the other end, David De Gea was a busy man, but none of the attempts troubled the man who is clearly the greatest goalkeeper on the planet.
United remain 11-points behind City.
Mourinho said if the title race were over he would be in Brazil or LA.
Bournemouth lies two points off the drop zone.
Newcastle 0 v 1 Everton 
At the other end of things, Newcastle United is sinking to the bottom faster than a pint in Wayne Rooney's hands, after losing for the seventh time in eight games against Everton.
The Magpies have only won one point in their previous eight ties, and have lost the last four at home, leaving them a point clear of a very congested relegation zone.
Wayne Rooney opened the scoring just before the half-hour mark when he pounced on a spill from Karl Darlow. It was the former England captain's ninth goal of the season, and his fifth since Big Sam took over.
Newcastle can count themselves unlucky to not grab a point. They hit the woodwork twice, with thunderbolts from Matt Ritchie, and Mikel Merino; had more shots and more possession. But Allardyce seems to have brought a renewed confidence to the defence since his arrival, with three clean sheets in the four games since he took over from the caretaker coach David Unsworth.
The win was also Everton's first away from Goodison Park since the turn of the new year as they maintain their position in the top half of the table after a woeful start under Ronald Koeman.
Results in Full
Burnley 1 v 0 Stoke
Crystal Palace 2 v 1 Watford
Huddersfield 1 v 3 Chelsea
Newcastle 0 v 1 Everton
Swansea 0 v 4 Man City
Spurs 2 v 0 Brighton
Man Utd 1 v 0 Bournemouth
Liverpool 0 v 0 West Brom
West Ham 0 v 0 Arsenal
Premier League Table
1. Man City – 49
2. Man Utd – 38
3. Chelsea – 35
4. Spurs – 31
5. Liverpool – 31
6. Burnley – 31
7. Arsenal – 30
8. Leicester – 26
9. Watford – 22
10. Everton – 22
11. Southampton – 18
12. Huddersfield – 18
13. Brighton – 17
14. Bournemouth – 16
15. Stoke – 16
16. Newcastle – 15
17. West Brom – 14
18. Crystal Palace – 14
19. West Ham – 14
20. Swansea – 12
Premier League Winning Odds (Courtesy of Bodog)
Man City 1/25
Man Utd 16/1
Chelsea 50/1
Premier League Relegation Odds
Swansea 2/5
West Brom 11/8
Huddersfield 5/4
Crystal Palace 7.4
Brighton 11/4
West Ham 11.4
Newcastle 3/1
Bournemouth 7/2
Stoke 4/1
Comments