The fourth edition of iGaming conference SiGMA has just concluded, showing a bigger and more involving formula than ever before. It attracted thousands of operators and iGaming professionals at the MFCC, proposing interesting industry trend discussions and plans for the future.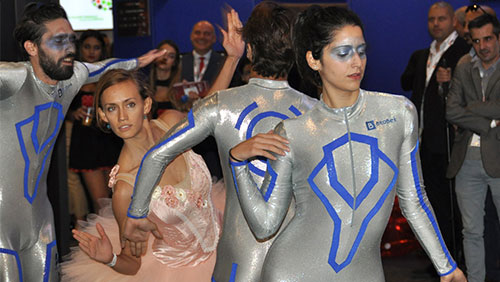 The multinational company BtoBet, sponsor at SiGMA 2017, surprised all attendees with its Technifying iGaming Tour 2017 and portal. It also amazed the public with an unprecedented dancing performance, where 5 international talented and flexuous dancers – Anna Armato, Georgia Evans, Liz Strini-Brown, Patrick Laera and Gianluca Blandi who is also the choreographer – were astonishing interpreters of the importance of a trusted and flexible technological partner to follow on the iGaming floor. 
The concept expressed by the dancing show at SiGMA was further explained and discussed in Room A, dedicated to Sportsbook & eSports, where BtoBet's chairman Alessandro Fried was the key speaker on the panel "Time to move to your own iGaming platform". There he shared his vision about the importance of "collaboration" and "trust" for operators seeking platform providers that have the capability to aggregate all the available content while providing players with a seamless customer journey.
Commenting on operators' needs, Fried highlighted: "Any decision to share player data – including names, personal data and preferences – must not be taken lightly, since this is giving insight into the heart of any operator's business. For this reason, when choosing a technological partner and adopting software that has not been developed in-house but outsourced, it is crucial to consider only providers with an open, independent and foresighted approach."
Fried concluded "A good technological partner is not only a software provider, but one that gives constant support to their clients through skilled and knowledgeable referrals, holds extensive knowledge of the industry, and helps operators to achieve objectives in a safe environment that cannot cause damage to their business."
To know more about Fried's discussion at SiGMA, download the Industry Report "Platform: in-house or outsourced? Trusting times." 
All operators that were unable to meet BtoBet's experts at SIGMA can contact [email protected].
About BtoBet
BtoBet is a pioneer in new technologies for iGaming operators and the betting industry by using technological intelligence as its main base for its products. It offers unique, customisable, secure and flexible cloud based systems delivering unprecedented capabilities to drive sportsbook and iGaming business. BtoBet has offices in Macedonia, Italy and Malta.  The Technical team of the company is in Skopje and has an ever-growing team of developers. BtoBet's dynamic Sportsbook team operates from Rome, whilst Malta hosts the commercial and marketing centre.