After an online poker player known only as Cumicon posts an almost perfect graph of online Pot Limit Omaha winnings hitting the $7.4m mark, Lee Davy, takes a few punts on why the player suddenly retired.
I had my first Thanksgiving Dinner on the U.S. soil last week (don't tell Daniel Negreanu) and the conversational icebreaker, "what do you do for a living?' was on the menu.
When I told people how much money is floating around the game of poker, jaws dropped lower than my mother and her best mate when they accidentally pressed play on the VHS recorder after my Dad had left Electric Blue 2 inside after a drunken orgy of one back in 1983.
I talked about Patrik, Phil, and, of course, the brain-shaking hit and run from Fedor Holz.
Shake.
Shake.
Shake.
After the disbelief hit the floor like a Mike Tyson opponent, the next question was, "What do they do with all of that money?" Followed by, "Why do they keep on playing if they could lose it all?"
It's a thought worth pondering.
Is it the love of the game?
Is it an addiction?
Is it fear of doing something else?
Ok, done pondering?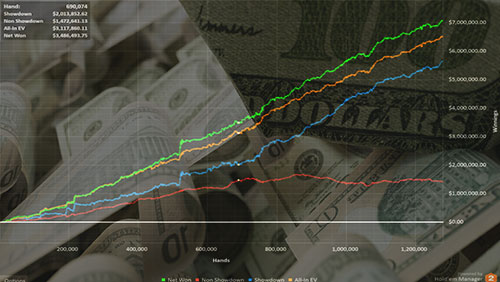 I often wonder why we don't have more people retiring at the top of the game. Yes, some people end up working in the local creperie stirring the batter, but that's generally when they have done their bollocks.
So it was refreshing to wake up this morning and read a 2+2 post from a professional poker player retiring from the game at the very pinnacle, and I didn't even know he existed.
An unidentified Heads-Up Online Pot-Limit Omaha (PLO) player, known as cumicon, has retired from the game, but not before sharing his graph on the poker forum 2+2.
The graph shows that between January 2013 and today, cumicon has secured $7.4 million in profit over 1.3 million hands. As people smarter than me have pointed out, to have played that many hands, and to have accrued that much cash, cumicon must have consistently competed against the very best players in the biz.
"I am quitting poker and want to share my graph now that I don't need to worry about killing any potential action I might get," cumicon wrote. "I always enjoyed seeing inspiring graphs posted on 2p2, so I'm happy to contribute mine." 
The graph is a visual smack in the face. It begs you to track him down 10 Rillington Place style, and while he is out of it, open him up and map the genius of the perfect poker body.
But we would be disappointed with the results.
 "I did this without ever really working on my game away from the tables, so it's still possible to be a lazy poker player and make money in today's games," cumicon wrote. 
Great.
Nature?
Nurture?
His expected-value adjusted column = $8.4 million.
Why don't more walk away from the game?
So why walk away from a game that's providing you with such a life-changing sum of money while being lazy? 
We don't know because the man who has become one of the most successful online poker players of all time is still not parting with any information except for the graph.
But we can have a punt.
Punt #1 Satisfaction 
Maybe it's not only Mick Jagger who is struggling in this area. Studies show that finding your passion alone might not be enough to satisfy you long term. Our hero may love poker the game, but perhaps he is a little Dan Colman when it comes to his wobbly moral compass when thinking about the darker nature of the game. Maybe he thinks all poker players are pricks. Or he has developed an urge to drink people's blood because he hasn't seen the light since Christmas 2012.
Punt #2 True Calling 
We can't always rely on our gut instincts when it comes to what drives our passion wagon. How can we know what our true calling is if we're Jesse Pinkman, chained to a meth lab?
We need to try 'other' stuff.
Work in a sex shop blowing up inflatable sheep, move to India and become a Bollywood star, or take a job in the cloakroom of the Icelandic Phallological Museum.
Punt #3 The Steve Jobs Effect 
What did you love five years ago?
Things change, right?
Steve Jobs was passionate about Zen Buddhism but ended up helping millions of people feel cool as fuck by creating super expensive gadgets that we could buy with our credit cards.
80,000 hrs, the effective altruists who spend their time offering career advice to the people who want to make a positive impact on the world write about passion:
"Many successful people are passionate, but often their passion developed alongside their success, rather than coming first." 
We will never know.
Cumicon came, conquered, and catapulted out of here like a cat in a bathtub.
And do you know what's the most inspirational part of this story for me?
He did it all without bragging to the poker community until the day he left.