Jimmy Fricke has decided to branch out and write a food blog. Lee Davy lends his opinion and picks out a few more superstars of poker who could get a thing going with a personal blog of their own.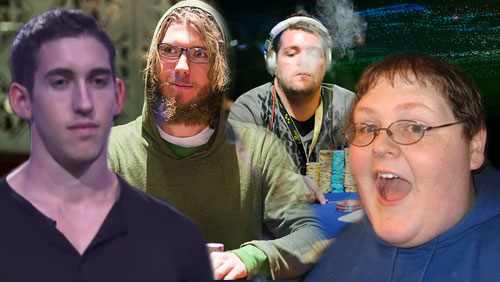 There is an inextricable link between poker and dining. The two go together like shoes and socks. You travel to the most exotic places in the world, play poker, get knocked out and then spend the rest of the night eating at the most expensive restaurants whilst sweating on the results of credit card roulette.
The World Series of Poker (WSOP) can hit you hard in the pocket, more than most, when it comes to food. If you are not sufficiently organized you could end up doing as much dough off the tables as you do on it. Fortunately, for the WSOP grinders, Jimmy Fricke has come to the rescue.
Gobboboy has started a food blog and his area of concentration is Las Vegas. The blog is aptly named: Jimmy Eats Vegas where he offers you the opportunity to 'Grow Fatter With Me,' and at the moment the site contains just one review: Chada Thai.
So do we have another Alan Richman on our hands, or is he nothing but a Mr. Creosote?
I liked Fricke's first review, and think the idea is an excellent one. If Fricke can focus on the little gems that the rest of us might miss, instead of writing reviews on the more common eateries, then this blog could be a little place of gold.
The greatest thing about Fricke being a food critic, is he eats so much (sorry Jimmy but it's true). If I were to review Chada Thai you would get two or three dishes, but with Fricke, you get an expansive lowdown on most of the menu. All American Dave, Ronit Chamani & Ryan D'Angelo, and Tatjana Pasalic have got some competition.
Hey everyone! It's 3AM and I have a somewhat big announcement! I have a food blog now. http://t.co/NqmzHXxwGV

— Jimmy Fricke (@jvfricke) January 10, 2015
Fricke and food is a perfect match, and that got me thinking. Who else could branch out from poker and create a blog based on their talents away from the dirty green baize?
1# Daniel Colman: The Photography 'Say Cheese' School
Anyone who has ever gotten married knows how difficult it is to keep smiling in front of the continual barrage of flashing lenses. Seriously, it gives you worse jaw ache than a YouPorn fluffer.
Who better to give you tips on how to smile for the camera than Dan Colman?
2# Jason Wheeler: How to Roll the Perfect Spliff
A lot of people like smoking weed. Either that or David Beckham's new cologne smells of the stuff. But even people who like smoking weed struggle to roll the perfect spliff. Step forward and open up a spliff rolling blog Mr. Jason Wheeler.
3# Andrew Lichtenberger: Cutting Costs on Clothes
Poker can be a huge drain on your bankroll, and some players may have to look to other areas of their life to save money. Andrew Lichtenberger is the perfect example of how you can buy an entire wardrobe for less than $5, and still look as cool as Legolas. Get that blog open Luckychewy.