On December 7, St. Julian's (Malta) will discuss the possibility of using cryptocurrency and blockchain in various business fields, including gambling. The topic will be discussed at Blockchain & Bitcoin Conference Malta, an event dedicated to cryptocurrencies, ICO and blockchain.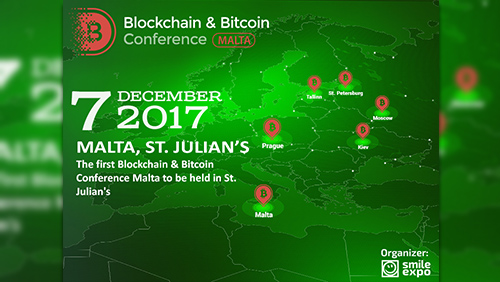 Blockchain & Bitcoin Conference Malta will feature the reports of globally-renowned experts on the advanced technologies and key figures of the gambling community. Speakers will consider different aspects of the technology, including its application in online gambling projects.
Time to master innovation
Today, gambling is the leading field for blockchain technology application: in 2017, capitalization of the gambling market reached about $30 billion with an annual growth of 10%. Well-known gambling companies that were created on blockchain or used the technology in their platforms include vDice, Edgeless, TrueFlip, DAO.Casino.
Cryptocurrency payments are convenient for players: they are anonymous, and has no double conversion. At the same time, blockchain is an attractive technology for online casinos developers and virtual bookmakers. Blockchain-based systems show that the resource owners do not interfere in the game, and this fact increases the credibility of the brand.
Blockchain & Bitcoin Conference Malta will include experts who worked with gambling blockchain systems in practice. They are ready to share their experience and answer questions. Speakers will also talk about the blockchain technology, its features, capabilities and advantages.
Speakers and topics
Eman Pulis: the main organizer of SiGMA, the world's largest gambling event; co-organizer of gambling conventions in Tallinn and Bucharest. In his report, the expert will talk about the Maltese regulation of ICO, campaigns to raise cryptocurrency funds.
Max Krypushev: developer of the Cubits service for quick transfer bitcoins into cash and vice versa. The expert will explain how to integrate bitcoin into the casino payment system for depositing and withdrawing funds. He will also explain what opportunities bitcoin opens for gaming business owners.
The conference will be attended by about 15 experts on cryptocurrency and blockchain technologies in various industries: developers, lawyers, investors, government officials. Among them are the Parliamentary Secretary for Financial Services, Silvio Schembri, Senior Consultant of Blockchain Malta Steve Tendon, Partner at the law firm GANADO Advocates Max Ganado.
Blockchain & Bitcoin Conference will also discuss intellectual property issues; decentralized economy and its global role; application fields of blockchain technologies; cryptocurrencies in Malta.
The organizer is Smile-Expo, the company that has already held more than 20 large blockchain events. Blockchain & Bitcoin Conference Malta is a part of the network of conferences around the world: in 2017, they were held in Stockholm, Tallinn, Prague, Kyiv, Moscow and other cities.
Get more information about the event and all the latest news of the project on the website of Blockchain & Bitcoin Conference Malta.