GIG implements solution designed to reactivate churned players 
Malta, Wednesday 22nd November 2017: Gaming Innovation Group (GIG) has partnered with leading player retention solutions provider Enteractive to boost the reactivation of its churned players.
Enteractive's Player (Re)activation Service has been integrated with GIG's SuperLenny, Thrills and Kaboo sites.
Enteractive's solution turns churned players into active users through its unique one-to-one personal phone calls, where trained agents interview individuals to understand exactly what they want from their gaming experience and guide these players accordingly.
In addition, the operator has taken on Enteractive's activation service, which targets registered non-depositing players converting them to active users on the respective sites.
Enteractive's socially responsible method, compliant with the Global Gaming Guidance Group, can alert operators to potentially vulnerable players ensuring they are handled quickly and responsibly.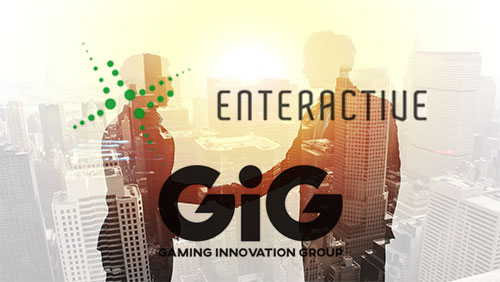 Remy Hordan, Head of Central CRM at Gaming Innovation Group, said: "Since working alongside Enteractive, we've already seen a significant increase in the number of churned players becoming active again and using our products.
"As well as improving our customer engagement with players to better understand their gaming experience, the service is also an invaluable tool in flagging vulnerable users aiding us in our responsible gaming efforts.
"We're thrilled by the early success and are excited to extend the solution across our other brands."
Enteractive CEO Mikael Hansson said: "Partnering with Gaming Innovation Group, an already established and growing operator, is a major deal for us and we're excited to be an integral part of its CRM strategy.
"Our service will enable GIG to significantly improve its bottom-line results by reactivating those lost users and helping them find their way back to GiG's impressive portfolio of gaming sites."
For more information on this release or to arrange an interview please contact Robin Hutchison at Square in the Air on 0203 586 8272 or [email protected]
Enteractive is a leading provider of player retention solutions for the iGaming industry. Co-founded in 2008 by CEO Mikael Hansson, the company's Player Reactivation Services help operators return churned players back to action, while its Player Support Offering makes sure active players stay on board. Enteractive received its Responsible Gaming accreditation from the Global Gaming Guidance Group and is committed to supporting and augmenting the responsible gaming policies of its operator clients. This includes promoting the awareness of problem gambling, as well as improving prevention, intervention, and treatment. Their clients within betting and gaming include leading names such as Betsson Group and Gaming Innovation Group.
Comments