LAS VEGAS (October 2017) – Aristocrat Technologies Inc. (Aristocrat) has won a contract to install its award-winning Oasis 360™ casino management system at the soon-to-open Rain Rock Casino in Yreka, Calif.
Owned and operated by the Karuk Tribe, Rain Rock Casino is expected to open this January with a 36,000 square-foot gaming facility housing 349 gaming machines, eight table games, a 100-seat restaurant, and on-site parking.
Built on a platform with open architecture, Aristocrat's Oasis 360 casino management system is as flexible as it is powerful. Among the modules the Karuk Tribe has chosen for Rain Rock Casino are Oasis 360™ core modules, nCompass™ version 6.2, Personal Banker™, OmniView™, SpeedMedia™ marketing modules and SpeedGames™ to include Play n Win™, Splashdown Countdown™, Richochet Rewards™, Jackpot Announcer™, and n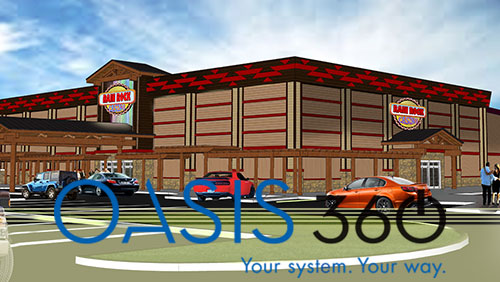 Rich™. The Tribe also selected the Trackit™ table games management module.
Mike Rose, General Manager of Rain Rock Casino, said, "We decided to commit to the Aristocrat Oasis system because we were looking for a strong partner with a proven system partnered with high performing games. During the selection process Aristocrat provided pricing that was very competitive and their service and responsiveness was the best! Aristocrat provides a product that works fantastic for our guests and provides our employees with a system that generates excitement on the floor and stability with our users. We are investing in the future with Aristocrat because they continue to invest in their systems, as well as bonusing and content that elevates the experience for our players."
"Oasis 360 is the system more Tribes rely on than any other, and we are grateful for the trust the Karuk Tribe has placed in Aristocrat," said Clark Warren, Aristocrat's Vice President of System Sales. "Robust and flexible, Oasis 360 empowers operators to reward their guests for their loyalty across the entire operation, while also providing cutting-edge and essential management and compliance tools."
For more information about Aristocrat's industry-leading system solutions, contact your Aristocrat representative or visit www.aristocrat-us.com, and join Aristocrat on Facebook and Twitter.
About Aristocrat
Aristocrat Technologies Inc. is a subsidiary of Aristocrat Leisure Limited (ASX: ALL), a leading global provider of land-based and online gaming solutions. The Company is licensed by more than 200 regulators and its products and services are available in more than 90 countries around the world. Aristocrat offers a diverse range of products and services including electronic gaming machines and casino management systems. For further information, visit the company's website at www.aristocrat-us.com.
Contact:
Paul Speirs-Hernandez
Steinbeck Communications/Red Wagon Institute
[email protected]
+1-702-413-4278
Write on!
Comments