Three tales of a footballing nature including a former Premier League player in the midst of a match-fixing scandal, Radamel Falcao accused of creating the Lima Pact, and Miss Bumbum wants Lionel Messi to reconsider.
Did you know that Scrabble is deemed a serious sport in Nigeria?
Someone had better tell Dickson Etuhu to pick up a dictionary because I think he's going to need a new career.
Etuhu has been named as a 'potential' player involved in an alleged match-fixing scandal in Sweden. The match-fixing accusations centre on a clash between Gothenburg and AIK Stockholm in May.
Two-days before the game was to kick-off, Kenny Stamatopoulos, a 38-year-old goalkeeper for AIK, told officials that he had been approached by an unnamed former player of the side to 'under-perform' during the game. Stamatopoulos is reported to have been offered a bribe worth £180,000, and received 'veiled threats' should he decide not to accept the terms.
Speaking to the press about the matter, Swedish FA's secretary general Hakan Sjostrand, said he had to postpone the match so he could protect the player.
"What if he makes a mistake?" said the FA Secretary. 
Etuhu is in the limelight because he voluntarily agreed to talk to investigators in charge of the incident. Etuhu, who has played 33 times for Nigeria, competed in the Premier League for Fulham, appearing 91 times before joining Blackburn. He currently works as an agent after being released by AIK after a two-year stint wracked by injury.
The reports suggested that bribes are more likely to be accepted in Sweden because the players only earn £2,000 per week.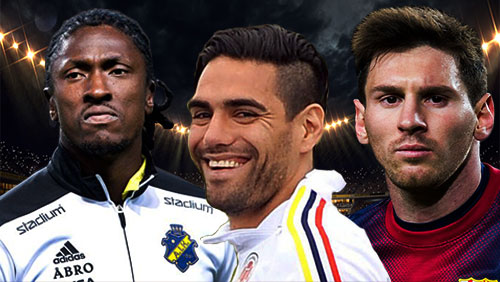 It breaks my heart.
"Heart."
That's an eight.
Radamel Falcao Denies So-Called Lima Pact 
Ok, we are moving down the scale of severity, but Radamel Falcao has been accused of match-fixing during the 1-1 draw between Colombia and Peru, a game that Falcao competed in.
The World Cup qualifier saw both teams qualifications hope on a knife edge with Chile needing to beat Brazil to claim a spot in Russia. But as time eked on, Falcao learned that Chile was losing 3-0, and began reminding the Peruvians that if things stayed the way they were (at 1-1), then both teams would have a chance of qualifying.
If Colombia had scored a late goal, Chile would have qualified for the Intercontinental Play-Off against the minnows. New Zealand, and had Peru scored late on, Colombia would have dropped into the play-offs.
The game ended 1-1, Colombia went through to Russia automatically, Peru made the play-off, and Chile missed out, their star man retired, and their manager resigned.
Journalists have dubbed the incident (cameras caught Falcao, hand over his mouth, talking to the Peruvian players) The Lima Pact. Falcao denies any wrongdoing but does admit having the conversation with the players. Peru's Renato Tapia also confirms Falcao had a chat with him about the score but maintained: "It's football and we play to win."
Miss BumBum Plagues Lionel Messi 
I did say this was dropping in severity.
In the last scandal, Miss Bumbum believes it's her rear end that is responsible for Argentina qualifying for the World Cup.
Suzy Cortez sent the Argentinean ace a barrage of butt photographs and videos hoping her "Kim Kardashian" would inspire the little magician to do his bit to get Argentina into the 2018 World Cup Finals in Russia.
You may think that it worked after Messi scored a hat-trick to overturn a 1-0 deficit to beat Ecuador in Quito by three-goals to one to book their spot in the finals but think again.
Messi blocked Miss Bumbum from all of his social media channels back in 2016 after he got fed up of staring at her derriere while drinking his green juice and snacking on granola and goji berries.
What a life.
Comments