VANCOUVER – Old Skool Studios brings iWin's timeless Jewel Quest franchise exclusively to Quickfire, powered by Microgaming.
Extending the reach of iWin's award winning Match-3 casual franchise, Jewel Quest Riches is an exciting new branded slot title from Old Skool Studios. This immersive game appeals to players who enjoy casual puzzle games, rewarding strategy with mystery, progression, prizes and achievements.
Played on 5×5 reels, the game offers cascading jewels with Increasing Multipliers – up to 12X for every spin. The skill-based Jewel Quest Bonus takes players on a progressive mythical journey across 8 replayable exotic worlds with 3-star achievements. Every bonus level offers different Match-3 puzzles with a local progressive jackpot, immersive music and stunning visuals. Up to 12 bonus moves are awarded, with players using skill and strategy to solve puzzles and earn prizes. Hidden relics are collected with big matches and are chosen in a final mini-game to earn a Mystery Multiplier.
Jewel Quest Riches went live to operators on Microgaming's Quickfire platform on 23 August 2017, with an exclusive early release on Casumo starting 2 August. Watch the promotional video here.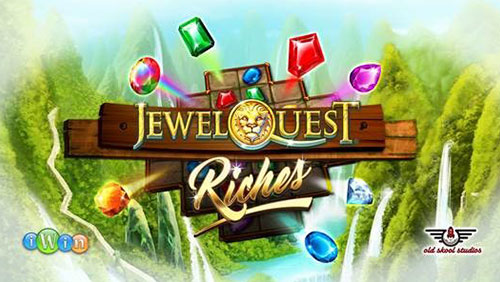 "Our best casual game to date. We had a great time joining Old Skool Studios on this Quest though mythical kingdoms. Dazzling graphics alongside an innovative and engaging skill-based bonus game. All wrapped up with an epic sound track. The focus on providing an in-depth mobile experience shines through with the immersive portrait mode. A treat for mobile and desktop customers alike. Truly a jewel in the crown!"
Mike McGraw, Executive Producer of Old Skool Studios, comments: "Jewel Quest Riches is our third game released on Quickfire and our first branded title. This casual game represents many months of planning, design and development, and we couldn't be more pleased with the iWin partnership. We aimed to really honor the classic Jewel Quest casual franchise and we're very pleased to see such an incredible response from the players."
Andrew Hollis, Games Manager for Quickfire at Microgaming, says: "It's great to be working with Old Skool Studios and to be able to offer the fantastic Jewel Quest to our Quickfire operators, exclusively. Since its launch last month, Jewel Quest has performed very well for the operators that have taken it live. We are always looking for new, exciting and innovative content to integrate on to Quickfire and Jewel Quest ticks all three boxes."
C.J. Wolf, CEO of iWin, comments: "Jewel Quest has been accessible on many platforms but this is the first iteration of the game as a real money slot game and iWin couldn't be more pleased with the implementation of this. This game highlights all of the amazing features that made Jewel Quest a worldwide phenomenon. Jewel Quest fans will most certainly be delighted and entertained by this game!"
For further information please contact:
Old Skool Studios Press Relations
info@oldskoolstudios.com
About Old Skool Studios
Headquartered in Vancouver Canada, Old Skool Studios is a Microgaming and RNG Foundry development partner. Jewel Quest Riches represents their third Quickfire released title, and their first branded slot game. The studio has been designing and developing top quality casino games since 2010 as an outsource partner, and their titles have released into many well-known social and real-money casinos. Their release of Epic City in 2014 established Old Skool as a standout creator of original, engaging, story-driven content for regulated markets. Every game is of the highest quality, offering players a unique and immersive experience they won't find anywhere else.
About iWin
iWin, Inc. is a multi-platform publisher and distributor of mass-market games. iWin has published over 50 games for PC and mobile including the
award-winning and massively successful Jewel Quest franchise. As a distributor of PC games, iWin's game sites reach millions of visitors each month from around the world.
About Microgaming
Microgaming developed the first true online casino in 1994. It has been breaking records, breaking new ground and breaking its back in pursuit of original gaming ever since. Developer of thousands of unique, genre-defining casino, mobile, poker, bingo, land-based and multiplayer games, and a pioneer in virtual and wearable gaming, the software giant hosts the world's largest progressive jackpot network. Its products include Live Dealer, Sportsbook, Business Solutions and Quickfire. Microgaming is an award winner. A millionaire maker. The father of player protection and responsible gaming. And through Microgaming PlayItForward, it is a pillar of its local community on the Isle of Man.
"Jewel Quest" (R) is a Registered Trademark of iWin, Inc., All Rights Reserved. (c) 2017 iWin, Inc.
Comments