From Rational Group to Amaya to The Stars Group, the industry's biggest poker company finally has a name that makes sense. A long term chart of its stock also makes a lot of sense, and tells us volumes (pun intended) about human emotion as it relates to trading activity.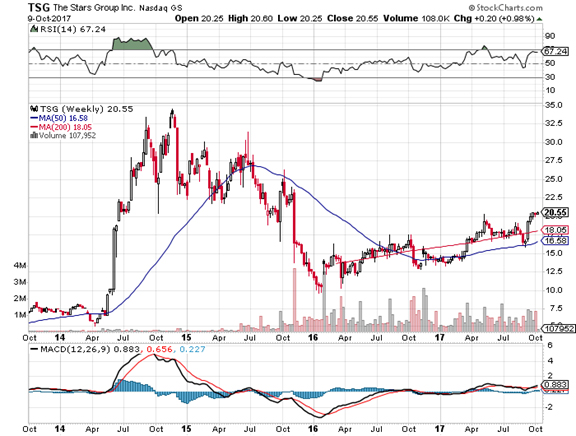 Before Amaya bought Rational Group in June 2014, Amaya was trading below $10 a share. Then the unexpected leveraged buyout and shares increased 350% on low volume, which means that retail traders with relatively little capital were pushing shares higher on the excitement without institutional money confirming.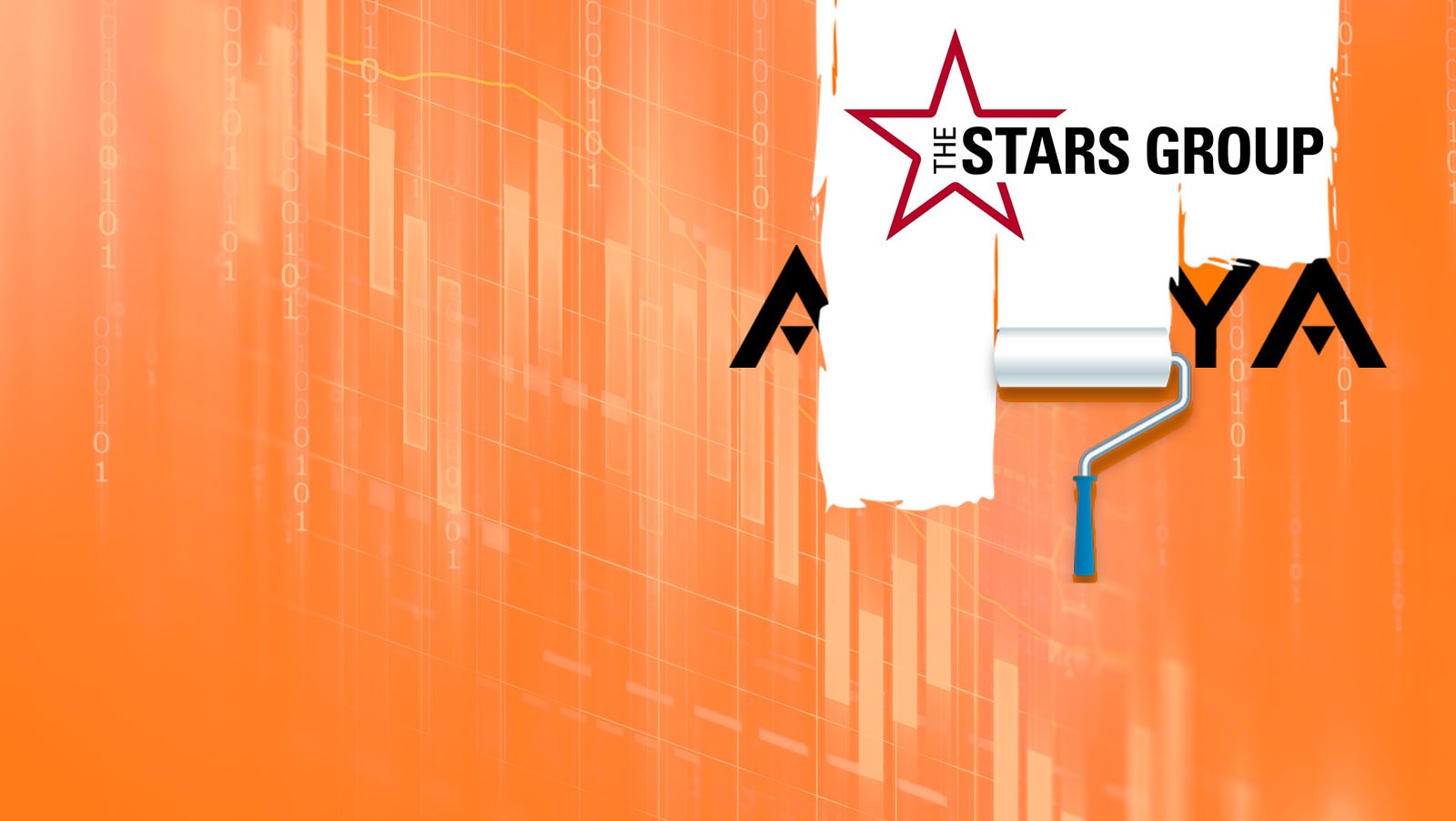 The buyout was risky and very lopsided. The financial health of what is now The Stars Group was not on sure footing and nobody knew if the merger would work out or not. While that uncertainty persisted, the parabola broke and shares fell back to where they were before the deal was announced, just below $10 a share. But as the new joint company got its act together and started growing and becoming more efficient, shares have retraced back to $20 and change. This time, on high volume, which hints that institutional money is now participating in the rally.
The dangerous, reactionary rally was just after the deal. Quickly burning, quickly exhausted, and shares fell back down on the same low volume. Then came the sustained trend. The technical lesson being that low volume rallies tend to be less sustainable, because only a handful of traders are willing to buy at elevated prices and they are mostly retail. To sustain a rally you need the institutional traders to get in and keep the price elevated. That's what's happening now to The Stars Group.
The numbers show it. Administrative expenses have fallen from 54% of revenues in Q2 last year to 45% this year. Even though debt service has gone up, efficiencies have been worth the cost so far.
Stars is also becoming more well-rounded, with any discouraging trends countered by encouraging ones. Poker revenue is down 6% year over year this quarter, but casino and sportsbook are up 50%. Casino and sports are now 29% of total revenues whereas last year they accounted for 21%. Quarterly active uniques have not trended higher since the deal in 2014, which seams discouraging.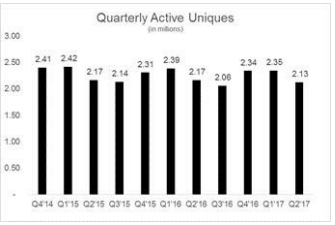 But on the other hand, the quarterly net yield per user has been trending higher.

Debt is being repaid without much struggle so far, but here we come to the two worrying aspects of Stars. First, over 15% of all revenues come from financially unstable areas or areas where politics have muddied the waters. Spain could be on the verge of a civil war – maybe (hopefully) not one where thousands will get killed, but depending on what happens today in the Catalan parliament, could end up with Madrid literally invading Barcelona with an army. This will not be good for any business but war and revenues from Spain will likely fall in the coming quarters. On the other hand, if Catalonia splits from Spain unilaterally and sticks Spain with the national debt it helped incur, Italy will be in trouble.
The second accident waiting to happen is in 2021-2022. $2.42B in principle debt will be due then, all at the same time, and Stars will have to refinance. The big question is what interest rates will they be able to refinance at? 2021 is likely to be a very different world from what we know today in terms of monetary policy. 2021 is a time bomb for The Stars Group, and though they've been paying off debt in advance, $75M most recently and $115M so far in 2017, they can't pay all of it by 2021. If they keep up the accelerated pace of repayment they are already at, they can maybe pay off half a billion, which still leaves around $2B due.
That's in 4 years though. What about tomorrow, three months from now etc.? There is no need to rush into The Stars Group. We are at a two-year high and the 14-day RSI is overbought. There is no dividend, which is actually good because they need every dime to pay off debt as fast as possible. The EU continues to be in a very precarious situation, a hard Brexit cannot be ruled out yet, the Federal Reserve is on a rate hike path, equity markets have not corrected significantly in 2 years, the S&P 500 is at all-time highs, and money supply growth rates are still relatively low.
The Stars Group remains a buy-the-dip gaming stock, so if you're interested in owning it, only buy on significant down days, and only slowly. Say, if you want a 10% position, buy 1% at a time on days when the stock is down 3% or more. If Barcelona declares independence and Madrid invades and the European bond market starts to dive though, you'll be glad you didn't enter full positions in one shot. On any significant correction of equity markets in general, The Stars Group is a good pick considering its performance, that is at least until 2021.
Comments