Steven "SvZff" van Zadelhoff wins the PokerStars World Championship of Online Poker Main Event for $1.6m at a final table that contained no deal-making.
Every professional poker player believes there's a fairy somewhere, guided them, hopefully, to a life-changing win. I see it in their eyes. I hear it in their voices. I can smell the confidence in their social media feeds.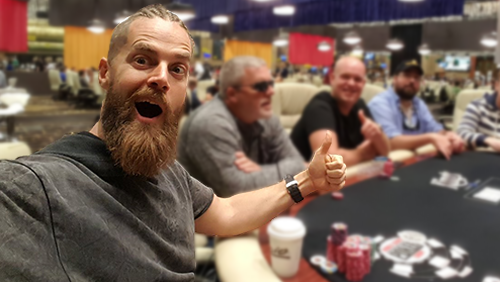 Steven "SvZff" van Zadelhoff is one of those people armed with a fairy. The Dutchman has travelled all over the world playing live tournament poker, but it's his online game that's his bread and butter.
Before today, SvZff had earned $3.8m playing online, and $1.5m playing live. Not considerable sums when compared with the people who usually hog our headlines, but sturdy enough to show you that the man is the consummate grinder.
Today, his online earnings have risen to $5.4m.
In a single mental day, van Zadelhoff managed to win more money than he has earned in a decade of playing live poker demonstrating the power of the PokerStars World Championship of Online Poker (WCOOP) brand.
SvZff is the 2017 WCOOP Main Event winner.
PokerStars knew it would be a killer competition. They slapped a $10m guarantee on the tin and promised to pay the winner $1.5m. They were proved right when 2,183 entrants (1,804 unique and 379 re-entries) paid $5,200, or qualified via the satellite system, creating a total prize pool of $10,915,000, and $1,64,502.27 for first.
After three days of action that, at times, must have felt like having piano strings tightening around your balls, van Zadelhoff entered the final table with a significant chip lead and ended up with the $1,64,502.27 first prize without the need for any deal.
Do you believe in something?
Anything?
Fairies, maybe?
Van Zadelhoff's best friend and poker partner is Kenny Hallaert, one of the hottest poker players in the world right now.
Here is what Hallaert had to say about his best friend's win.
"9 years ago I met Steven." Hallaert wrote on his Facebook page. "Throughout the years we became very close friends, and together we were studying a lot on the game. Solely looking at results the last couple of years it looked like I became a better poker player but that was only a misconception. I was just running better at the time. Today all things finally fell in the right place, and he can call himself World Champion of Online Poker after winning the WCOOP Main Event. Words can't describe how happy I am right now." 
I imagine having a significant piece of van Zadelhoff's action magnifies those happy feelings.
Final Table
1. Steven "SvZff" van Zadelhoff (Malta) $1,624,502.27
2. joshuah333 (Canada) $1,173,712.87
3. Bernardo "Machadada RS" Rocha (Brazil) $848,015.82
4. Alexandre "Cavalito" Mantovani (Brazil) $612,697.15
5. JeremiieLand (Austria) $442,677.47
6. Geokarak (United Kingdom) $319,837.87
7. Kekkhou (Finland) $231,084.73
8. romanooo64 (Thailand) $166,961.29
9. imluckbox (Thailand) $120,630.39
WCOOP Big Name Roll Call
Playing online poker affords you a few luxuries. You don't have to bust out the shaving cream; armpits don't need a blast, and you don't have to tell the public what your name is.
All of this means, we have some hairy, smelly, people we don't know winning large sums of money.
Screw that lot.
Here are the ones that we do know.
Pascal "Päffchen" Hartmann defeated 1,165 entrants to capture the $37,014.66 first prize in a $215 Pot-Limit Omaha (PLO) 6-Max event. Artem "veeea" Vezhenkov outlasted 1,221 entrants to win a $1,050 Progressive KO tournament for $97,389.47 + $100,514.32 in bounties. And Jerry "hummylun" Wong battered 137 entrants to win the $32,625 top prize in a $1,050 Stud Hi/Lo event.
Nicolas "chileocl" Yunis defeated 216 entrants to win a $1,050 NLHE 6-Max Shootout for $47,520. Jon "PearlJammer" Turner destroyed 208 competitors to win the $35,991.08 first prize in a $1,050 PLO8 6-Max. And Jens "Fresh_oO_D Lakemeier ran over 690 opponents to win the $97,459.68 top prize in a $1,050 NLHE 6-Max.
Nick "PureCash25" Rampone managed to navigate his way through a swarm of 3,574 entrants to win the $256,502.18 first prize in the $530 NLHE Sunday Million SE. Chris " Big Huni" Hunichen won his first WCOOP title in the $530 5-Card PLO 6-Max for $53,537.37. And Philipp "philbort" Gruissem also lost his cherry winning the $215+R NLHE 6-Max for $75,414.36.
Pedro "Zagalo87" Zagalo beat 71 entrants to take the $419,038.62 first prize in the $25,000 PLO 6-Max High Roller, Victor "Isildur1" Blom controlled 124 participants on his way to victory in the $2,100 HORSE for $60,760. And Patrick "prepstyle71" Serda beat 244 entrants to win the $10,300 NLHE High Roller for $469,190.91.
Finally, the top two live tournament players in the world (according to the Global Poker Index) Nick "caecilius" Petrangelo and Bryn "BrynKenney" Kenney played heads-up for the $25,000 NLHE High Roller title. Petrangelo took the title and $624,676 after a three-way deal that saw Bartlomeij 'bartek901″ Machon taking the largest prize of $636,113 despite finishing third.
The winner of the WCOOP Leaderboard was Russia's ImLuckNuts who wins a PokerStars Caribbean Adventure (PCA) Package and $20,000 in cash.
Until next year.