Three tales from the felt including PokerStars changing their online tournament payout structure; Celina Lin winning another Macau event, and Muskan Sethi joining Global Poker League India.
PokerStars is back to its testing, tweaking best.
Earlier today, Mike Jones, Poker Operations Manager for PokerStars, penned a blog post titled: Paying More Places: The Evolution of PokerStars Online Tournament Payouts in which he outlined plans to increase the number of ITM cashes.
Jones began his post by reminding people that the standard payouts for online tournaments circa 2002 – 2006 was 10% of the field, taking a line out of the brick and mortar playbook. But over time Jones and his colleagues felt the system was flawed and set out to remedy the situation.
Over the years the payout field percentages have changed from 10% to 11%, to 12.5%, to 14.2%, to 16.6%, bringing us up to date with a payout structure of 18% of the field, representing 1 in 5.5 players.
But, as we know, PokerStars is on a mission to provide a more enjoyable experience for the recreational players, and this means allowing them to leave with more money in their pocket, more often.
With that in mind, Jones and the gang has decided to once again lengthen the payout line by making further changes. 12% payouts will stretch to 14%, 14% reaches out to 16%, 16% travels to 18%, and 18% hits a new high of 20%.
The new changes take effect September 11, and Jones stressed that 30% of the weekly recurring schedule remains unaffected by the changes, including Progressive Knockout tournaments, higher buy-in events, and tournaments already dishing money out to 20% of the field.
The last time PokerStars tinkered with the payout structure of their live events they were forced to change their minds after feeling the ferocity of the feedback from their higher class customer.
I imagine they have learned from their experience.
The PokerStars Discord channel was unmoved by the decision the last time I poked my nose in.
PokerStars Celina Lin Wins Another Ladies Event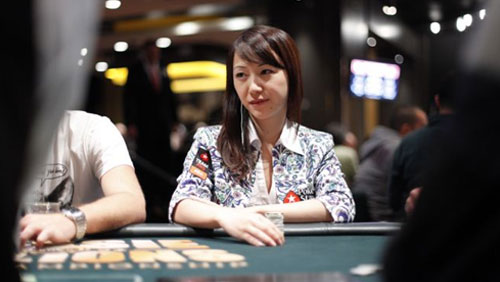 PokerStars Team Pro, and Global Poker League (GPL) Hong Kong Stars manager, Celina Lin, has picked up another trophy in Macau.
Competing in The Macau Poker Cup at the PokerStars LIVE Macau poker room in the City of Dreams, Lin defeated a field of 45-entrants in the HK$5,000 buy-in Ladies Event. Lin defeated Macau's Xia Wang in heads-up action to take the HK$70,700 first prize.
Lin has now won seven titles in Macau including winning two Red Dragon events at the Macau Poker Cup in both 2009 & 2012. The PokerStars employee has also won her two previous Ladies Events, after taking down the title during PokerStars Festival Korea.
Final Table Results
1. Celina Lin – HK$70,700
2. Xia Wang – HK$45,200
3. Meian Pan – HK$29,425
4. Vilma Goldman – HK$21,600
5. Chia Lin Chang – HK$15,700
6. Yongwei Mo – HK$13,800
Lin's Hong Kong Stars reached the quarter-finals of the GPL Season 1 before Berlin Bears eliminated them en route to their appearance in the final.
Muskan Sethi Joins GPL India 
Moving swiftly on from one GPL event to another, and Muskan Sethi is the first face of the newly formed GPL India.
The Global Poker Index (GPI) top ranked Indian female poker player will become the Team Manager for the Delhi Diehards. It's not the first time Sethi has featured in an Indian Poker League. She starred for The Punjab Bluffers during the inaugural Poker Sports League earlier this year.
Super excited ⭐️ to be a part of @GPLIndia @gpl let's go!!! pic.twitter.com/1eOQxRpxUE

— Muskan Sethi (@muskaansethi) September 7, 2017
Sethi's biggest moment in her poker career came in 2014, when she qualified for the PokerStars Shark Cage, only to lose to the English rugby star Mike Tindall in the heads-up phase of Episode 6, and if you can't remember her, here is a brief reminder.