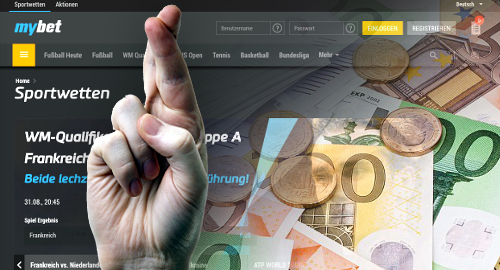 German online betting operator Mybet says its new software platform is performing well despite double-digit revenue declines in the first half of 2017.
On Tueday, Mybet released its H1 report card, which showed group revenue of €17.1m, a 28.5% decline from the same period last year. Earnings totaled €7m, although this was mainly due to the impact of the €11.8m settlement Mybet reached in May with Westdeutsche Lotterie Gmbh over the latter's violation of German competition law.
Mybet CEO Markus Peuler called the H1 results "unsatisfying but not surprising," given this year's lack of a major football tournament and the company's casino site being blocked in Greece. But Peuler claimed the "first changes in customer behavior on our new platform and in profitability we observed are very exciting."
Mybet launched its new online platform in March, and the company says casino customer activity increased following the rollout. What's more, despite both casino and sports revenue falling in H1, earnings in both verticals increased from Q1 to Q2. Mybet noted that the period in question was brief, and Q1 featured a plethora of punter-friendly sports results, but should these sequential trends continue, it would represent "a significant success for the company."
Retail betting fared than online, reporting handle falling just 1% to €42.9m, while online betting handle was off 27% to €28.4m. Retail betting hold was also twice as high as the amount kept via online. Mybet recently introduced an omni-channel cashout feature by which punters can choose a buyback option on unsettled bets placed via retail, online or mobile.
Online casino revenue fell by more than half to €4m but the company expects its first full-featured mobile casino – which launched in tandem with the new platform – will help right the ship in the second half of the year.
Mybet's B2B business was H1's lone positive channel, as revenue gained 4.5% to €1.1m. This division is expected to get a boost in H2 via last week's announcement of a deal with a new partner in Austria to open Mybet's first retail betting shops in the country. The first seven of these shops are now in operation and more are in the pipeline.
Comments