The Spanish football club, Sevilla, has agreed on a shirt sponsorship deal with Playtika that will see the World Series of Poker's free to play poker room PlayWSOP.com branded on the first team's shirts.
With La Liga audiences growing to the region of six billion eyeballs per season, it pays to have your brand logo on the front of one of the 20 teams who compete in the top tier of Spanish football.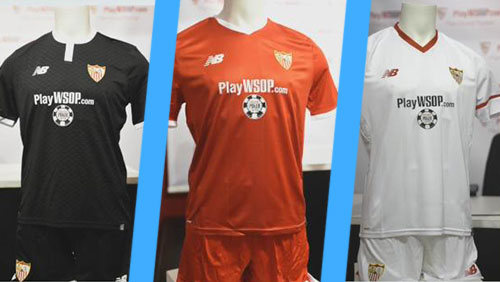 That fortune has fallen into the lap of the World Series of Poker's (WSOP) free-to-play poker game, PlayWSOP.com, after the three-time Europa League winners, Sevilla, agreed on a new sponsorship deal with Playtika.
The one-year rolling deal said to be worth multi-millions sees Playtika become the official shirt sponsor, as well as having the opportunity to advertise around the stadium, and during video segments with the players. Playtika will take advantage of the deal to market the myriad of social games that make up their roster, beginning with the online poker room.
A Chinese consortium acquired Playtika from Caesars Interactive Entertainment (CIE) for $4.4 billion, in 2016, and that's when PlayWSOP.com was cut from the umbilical cord that had sustained it from the beginning. Caesars purchased Playtika in May 2011 for $80-90 million.
A gap opened up on the front of the Sevilla shirts, unexpectedly, in Feb 2017, when the previous sponsor, the country of Puerto Rico, triggered a clause in their contract allowing them to demote their own branding to a second-tier status. The country blamed harsh economic conditions back home as their reason for the abrupt change.
Other brands that do business with Sevilla are New Balance and Coca Cola. GVC Holding's bwin is the teams official betting partner. Bwin and Sevilla began working together in Feb 2017, and the deal expires in May 2018.
Sevilla finished fourth last season, behind the might of Real Madrid, Barcelona, and Atletico Madrid. Sevilla won the Europa League on three successive seasons 2014, 2015 & 2016. They also won the competition in 2006 & 2007 making them the most successful club in the competition's history.