Esports organisation, Ninjas in Pyjamas, have pulled out of their sponsorship deal with Betway, and the former Dutch footballing ace, Edgar Davids, successfully sues Riot Games over Lucian skin likeness.
In September, the relationship between esports and gambling was as strong as the one between Caesar's apes after Betway invested in a high six figure deal with the esports organisation Ninjas in Pyjamas (NiP).
Today, the tenuous relationship between these two forms of entertainment came to light when NiP pulled out of the deal due to rules within the sport that bar the promotion of gambling companies on their match day attire.
NiP made the call after deciding to re-enter Riot Games' League of Legends Championship (LCS) series. Riot Games is the video game developer responsible for creating LOL, and as part of their terms and conditions (TOCs) forbid participating teams from advertising gambling products on their match day shirts, an important clause in the Betway deal.
On the one hand, you can understand Riot Games' rules. As a video game developer, their market is a young and vulnerable one. I imagine the last thing they want to be responsible for is creating a video game gambling gene once the world launches a genetic child catalogue.
But does this disturbing dystopian future where children learn to gamble playing video games exist?
Amongst Betway's other sponsorship deals is a relationship with the English Premier League (EPL) side, West Ham. The Betway name is front and centre on the claret and blue during match days. The EPL is the most watched league in the world, beamed into 643 million homes in 212 territories reaching a potential audience of 4.7 billion people, and that's a lot of children.
NiP has been very complimentary of Betway during the partial divorce. Betway continues to sponsor NiP in Counter Strike: Global Offensive (CS:GO) games, albeit on an individual basis.
The feedback from NiP fans has not been too favourable over the split. Experts in the space believe this is due to Betway doing such an excellent job of providing valuable content for NiP fans.
Edgar Davids Wins Riot Games Lawsuit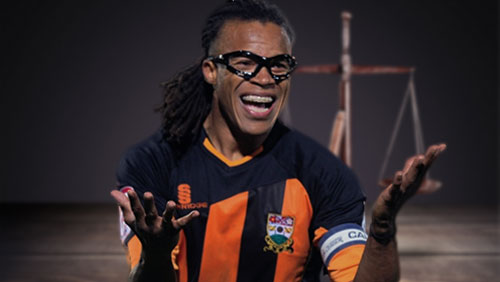 A player who briefly graced the EPL with his appearance was the Dutch star, Edgar Davids.
Davids became one of the most lusted after FIFA video game players on the planet when he began wearing special glasses during matches due to his glaucoma condition, and it's for this reason that Davids recently found himself in a legal wrangle with Riot Games.
Davids sued the video game developer after creating a skin for their LOL character Lucian, that bore an uncanny resemblance to the former Barcelona and Spurs star.
The new look Lucian had Davids trademark dreadlocks and goggles, and it's for this reason that Davids decided to sue the Tencent owned company. It does seem like a mercenary move by Davids, who once posted a picture of the Lucian character on Instagram stating "My son thinks this #LeagueofLegends #character is based on his dad wahahaha."
Davids is still laughing after winning the lawsuit.
The court has to decide how much money the skin made in The Netherlands so to calculate compensation. One imagines it will be enough to put food on the Davids family table for a short while. In-play purchases, like the Lucian skin, attributed £1.2 billion to Riot Games 2016 revenue.
Comments