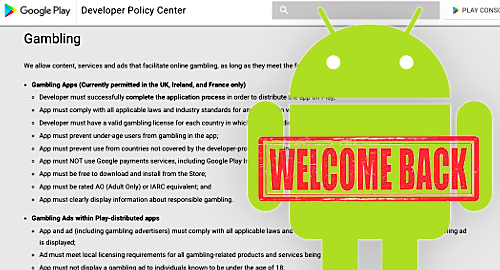 Online gambling apps are flooding Google's Android app store after the digital giant officially relaxed its ban on the products.
Last month, UK tech watchers broke the news that Google was preparing to lift its longstanding objections to real-money gambling apps in the Google Play app store. Google has now officially updated its policy center detailing the change and what gambling operators need to do to get their product onto the digital shelves.
For the moment, the gambling apps are only accessible via the Google Play stores in the UK, Ireland and France. Google has apparently chosen these markets as a trial run to determine whether or not their societies implode before rolling out the changes in other gambling-friendly markets.
App applicants will need to meet a number of criteria, including proving they have a valid license to offer gambling services in a market, preventing app use in countries not covered by the license, preventing underage users from gambling, including responsible gambling messages, etc. The apps are also prohibited from using Google payments services, including Google Play In-app Billing.
Gambling operators have long since offered Android apps for download directly from their websites, so the policy shift isn't necessarily a game-changer. However, numerous operators – including 888 Holdings, Sky Betting & Gaming, Ladbrokes and Kindred Group brands – have already got their products in the official store and more operators are expected to follow suit in the coming days.
Google simultaneously announced that it was lifting its ban on gambling advertising within Google Play-distributed apps. This policy shift also carries a number of restrictions related to licensing, age-appropriateness and responsible gambling, as well as a ban on advertising real-money gambling via simulated gambling apps.
Google first painted gambling apps with its scarlet letter back in 2013, which allowed Apple iOS gambling apps to claim a bigger slice of the mobile gambling pie, despite Android devices having much larger market penetration in most jurisdictions. Google appeared to soften its stance somewhat in 2015 when it allowed real-money daily fantasy sports apps to appear in the US Google Play store.