Another two bracelets to hand out including one for a man who qualified for $60 playing online, and another who created a bankroll by winning the hit TV show Who Wants to be a Millionaire.
When the World Series of Poker (WSOP) scriptwriters gathered around that big oak table, I imagine the story of the guy who owned a shoe store, qualifying for a bracelet event via a $60 online satellite on WSOP.com, and then winning the thing was high on their list of specs.
Rulah Divine might not own a shoe shop, but he does own a WSOP bracelet, after qualifying for Event #63: $1,000 No-Limit Hold'em for $60 playing online at WSOP.com.
Divine's victory means there will be a few more presents tucked under the Christmas Tree for his twins this December. $262,501 provides the security blanket needed to care for two such tiny foals.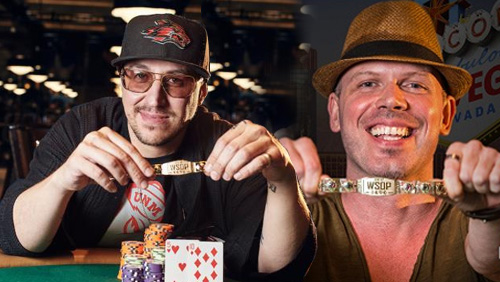 The 37-year-old donned his Ace of Spade's motorcycle helmet and drove through a field of 1,750 entrants, a mammoth 29% drop in attendance from the year Tony Dunst marched through 2,452 entrants.
There was a snappy pack of Coyotes nipping at his heels on the final table. Yunsheng Sun was a former World Poker Tour (WPT) National China High Roller winner, but the two most prolific WSOP players at the final table were Ryan Hughes and John Monnette.
The two-time bracelet winner, Hughes, finished in fifth place, good enough for the lead in the WSOP Player of the Year race. Three-time winner Monnette finished sixth, and he now resides in third place in those same rankings.
Divine faced Patrick Truong in heads-up action. He started with a 5.3m v 3.4m chip advantage and finished the job in double quick time. Before this win, Divine's previous largest win was for $4,088 when he came 72nd in a WSOP $1k event in 2013.
Final Table Results
1. Rulah Divine – $262,501
2. Patrick Truong – $162,170
3. Michael Amato – $116,940
4. Yunsheng Sun – $85,226
5. Ryan Hughes – $62,785
6. John Monnette – $46,758
7. Fabio Felice Cudia – $35,207
8. Eddy Sabat – $26,806
9. Jeffrey Silverstein
Also amongst the cluster of stars who shone brightly in this one were Andy Frankenberger (10th), Yorane Kerignard (14th), and Mihai Manole (21st).
Sebastian Langrock Wins Event #64: $1,500 No-Limit Hold'em/Pot-Limit Omaha 8-Handed Mix
Here's a question for you.
"Who would know the twenty to four position?"
1. A driving instructor
2. Karate master
3. Waiter
4. Landscape architect
Fortunately, for Sebastian Langrock, he knew the answer, and I say fortunately because it was the final question on his 2013 stint on Who Wants to be a Millionaire netting him €1m.
That was back in 2013, and Langrock used that bankroll to become a professional poker player. It was a smart move, as he asked all the questions, and had all the answers, on his way to winning Event #64: $1,500 No-Limit Hold'em/Pot-Limit Omaha 8-Handed Mix.
It was an event dominated by the WSOP bracelet winner Ryan Laplante, who was trying to win his second gold bracelet by going wire-to-wire on this one. Langrock stopped him in 22-hands of heads-up play.
It was a final table with no room for prisoners of war. Shannon Shorr was in the mix, as were Esther Taylor, and Fernando Brito. But ultimately, it would be Langrock who would take down the $268,5554 first prize, his highest since finishing third in the WPT National Prague in 2014 for €46,600.
Laplante will wake up this morning feeling like he ended up on the wrong side of a drunken brawl, but he must be a contender for a deep run in the Main Event. Before this runner-up finish, Laplante finished 4/1994 in the ULTIMATE GOLIATH event at Planet Hollywood for $84,933, and 2/2320 in a Wynn Summer Classis event for $161,169.
The event attracted 1,056 entrants, up 15% of last year's entry count.
I think you will find the answer is "Waiter".
Final Table Results
1. Sebastian Langrock – $268,555
2. Ryan Laplante – $165,983
3. Victor Choupeaux – $118,190
4. Esther Taylor – $85,225
5. Shannon Shorr – $64,242
6. Zahir Gilani – $46,048
7. Jerry Callahan – $34,515
8. Fernando Brito – $26,216
9. Jagdeep Singh – $20,181
Other players whose pulses went from blood pressure overload to corpse were Mark Radoja (10th), Connor Drinan (12th), and Chris Moorman (17th).
Comments