The TV schedule for the World Series of Poker Main Event has been released for all the green-eyed monsters who don't possess ESPN, ESPN2 or PokerGO, and WSOP Online UK plans to close for good on July 20.
The first time I experienced the World Series of Poker (WSOP) Main Event. I mean, standing in the room as everyone prepared to take their seats. I placed my palms on my cheeks like the man standing on the bridge in the Munch painting. The screams were silent to all but me. It was an exhilarating experience.
And then, a few days on, when the business end of the tournament kicked in, and people were playing for some serious money, I felt like a yacht hanging around in a windless sea. Bored, uninspired, and stuck with nowhere to go.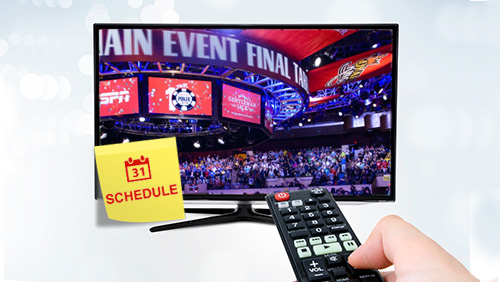 Poker is like that.
It's one of the only games in the world where all the excitement is front-loaded, and people end up experiencing the greatest moments of their life in the midst of the cleaning lady hoovering up in the background.
And so, you should tune in to the live coverage of Day 1 of the WSOP Main Event, beginning Saturday 8 July, because it will be something special. It's the first time in 48-years the grandest Duke of them all is being beamed live (30-minute delay).
ESPN & ESPN2 is planning to show 40+ hours of live coverage, ending with the three-day finale on July 20, 21 & 22. There will also be a special final table preview show airing on July 19 at 10 pm on ESPN2. In addition to the ESPN coverage, PokerGO will also shove a few cameras in people's faces to add another 60hrs of live coverage.
Norman Chad, Lon McEachern, and Kara Scott will pick up most of the heavy lifting regarding colour and commentary.
Here is the plan in full.
July 8 (Day 1A) PokerGO 2pm-4pm, ESPN2 4pm-8pm, PokerGo 8pm-9.15pm
July 9 (Day 1B) ESPN2 2pm-6pm, PokerGo 6pm-9.15pm
July 10 (Day 1C) PokerGO 2.30pm-9.15pm
July 11 (Day 2A/B) PokerGO 2.30pm-7.30pm, ESPN 7.30pm-11pm, PokerGO 11pm-11.30pm
July 12 (Day 2C) PokerGO 3.30pm-8pm, ESPN 8pm=10pm
July 13 (Day 3) PokerGO 2.30pm-9.15pm
July 14 (Day 4) PokerGO 2.30pm-8pm, ESPN2 8pm-11pm, PokerGO 11pm-11.30pm
July 15 (Day 5) ESPN2 2pm-4pm, PokerGO 4pm-9.15pm
July 16 (Day 6) ESPN2 2pm-6pm, PokerGO 6pm-3am
July 17 (Day7) PokerGO 2.30pm-7pm, ESPN2 7pm-9pm. PokerGO 10.45pm-3am
July 19 ESPN2 Final Table Preview Show 10pm-11pm
July 20 (Day 8) ESPN2 9pm-TBD (9 players to 6)
July 21 (Day 9) ESPN 9pm-TBD (6 players to 3)
July 22 (Day 10) ESPN 9pm-TBD (Play to winner)
WSOP Online UK to Close July 20
Ok, I admit it, I am a pathetic poker writer.
Stakeholders of WSOP Online UK have decided to close the online poker room on July 20, and I didn't even know it existed. I picked the news up via www.onlinecasino.co.uk, where it urged the 1,500 players who use the site to withdraw their funds ASAP.
WSOP Online UK is a Caesars Entertainment owned company, but the software belongs to 888 Holdings. The decision doesn't affect WSOP.com's other interests in the land of Stars & Stripes.
Players were barred from playing on the site on July 3.